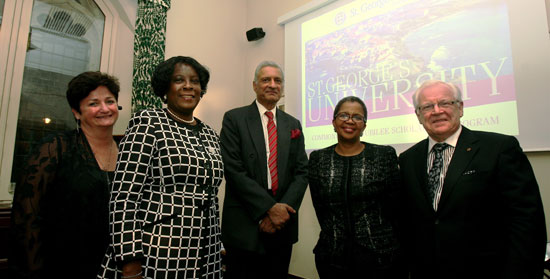 The Secretary-General of the Commonwealth, Kamalesh Sharma, today (20 November) launched 60 Commonwealth Jubilee Scholarships offered by St George's University, from the Caribbean island of Grenada.
The scholarships represent one for each of the Queen's 60 years as Head of the Commonwealth of Nations. The scholarships are divided into 10 for the Doctor of Medicine programme; 10 for Doctor of Veterinary Medicine; 10 for Master of Public Health; and 15 each for Arts and Sciences and Master of Business Administration programmes. These full tuition scholarships have a combined value of US $3.5 million. Preference will be given to developing countries and small states of the Commonwealth, with the objective of helping to reverse the professional 'brain drain'. As part of the application process, scholarship candidates will need to submit an essay detailing how the award will ultimately benefit the development of his, or her, country.
Now in its 36th year, St George's University is an international centre of higher education and has drawn its students and faculty from 140 countries. The University has graduated over 12,000 physicians, veterinarians, scientists, public health and business professionals.
In a special message, the University's Chancellor, Dr Charles R Modica, described his commitment to Grenada which, he said, "is an island of peace and tranquillity in a sometimes violent and troubled world. Our host country", he added "gives us the perfect environment for concentrated academic study and achievement."
The University has a strong relationship with the Commonwealth. Currently 2,139 students from Commonwealth countries are studying at the University with 3,233 having graduated. This is the second occasion on which St George's has offered Commonwealth scholarships – the first in 2006 were to commemorate the University's 30th anniversary.
Responding to a message of loyal greetings, sent on behalf of Commonwealth students studying at St George's University, Grenada, the Queen, through her Private Secretary, acknowledged the announcement of the 60 scholarships and "sends her warm good wishes to all concerned for a most memorable and enjoyable event."
A message has also been received from Grenada's Prime Minister and Minister for Foreign Affairs, Tillman J Thomas, in which he stated that "we are very proud of St George's University in Grenada – and particularly pleased that it attracts so many students from our sister states of the Commonwealth." He was sure that "these scholarships…will enhance still further the reputation of the University, and Grenada, throughout the Commonwealth family."
St George's University School of Medicine was the first private medical school in the Caribbean. Founded in 1976, its degree course provides clinical training for medical students in both the United States and the United Kingdom – a network in the UK which has now been expanded to 17 NHS-affiliated hospitals.
In addition, the University's Keith B. Taylor Global Scholars Programme offers a first year basic science studies programme at Northumbria University where students are exposed to a year-long series of public lectures on global health in addition to activities which also encourage a global medical perspective.
The University, too, has enjoyed a special 21 year relationship with the Government of Botswana. Last May, the University celebrated the entrance into the Batswana workforce of more than two dozen Batswana St George's University graduates of the schools of Medicine, Veterinary Medicine and graduate studies programme at a graduation ceremony in Gaborone, Botswana — the first graduation ceremony to be held by St George's outside the US or Grenada. The University is seeking ways of collaborating with the Government of Botswana to enlarge the number of medical students and support Botswana's mission in becoming a regional education hub.
At the present time, there are 181 students from 15 African countries studying at St George's. Of 76 students from Botswana, 71 are taking medical degrees.
In Grenada, it is estimated that St George's University contributes over US $100 million annually into the Grenadian economy – in salaries, hotel accommodation, housing, recreation, construction and goods and services. Over 600 citizens of Grenada are employed by the University as faculty, staff and administrators. Since 2005, the University has given over US $70 million in scholarships to Caribbean students – many of them Grenadian. Over 700 Grenadians have graduated from St George's with over 2,000 Grenadian students having been enrolled in degree and certificate programmes.
https://www.sgu.edu/wp-content/uploads/2016/10/news-jubilee-commonwealth-scholarships.jpg
279
550
jrichardsink
https://www.sgu.edu/wp-content/uploads/2020/02/sgu-logo-grenada.svg
jrichardsink
2012-11-20 18:52:32
2017-01-18 00:41:39
Commonwealth Jubilee Scholarships Announced; St. George's University, Grenada, Reaches Out to Developing Countries