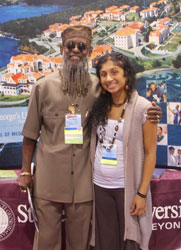 Since its inception in 1999, St. George's University's Department of Public Health and Preventive Medicine (PHPM) has proven itself an integral entity within the University community and beyond.  As the University embarks upon the significant 10 year anniversary we reflect upon its successful evolution and the individuals whose contributions brought this Department to its current place of global influence in the public health sector.
The program began under the leadership of Marjorie Hamrell, who upon her return to the United States, passed the reins to Dr. Amuleru-Marshall in 2001.  Today, Marjorie Hamrell plays an active role in Volunteers in Medicine Institute (www.vimi.org), a not-for-profit organization based in Vermont which helps people create free clinics in their communities.
As Chair of the Department, Dr. Amuleru-Marshall's dedication and determination strengthened the program and helped raise its profile for formal accreditation through the  Council for Education in Public Health (CEPH). The PHPM is now in the final stages of this very comprehensive yet crucial formal recognition process, one which will ultimately serve to enhance the University's global recognition as a Public Health Institution, attracting students and top-tier faculty worldwide and forging research links with other leading academic institutions.  Upon approval, St. George's University will be the third Public Health Program outside of the United States recognized by the CEPH.
Dr. Amuleru-Marshall's efforts are most evident to the 348 students who have completed the MPH program since its inception.   He was also instrumental in the development of the MPH/MD program which to date has afforded 72 SGU graduates the opportunity to achieve their goal of becoming a physician while imbuing them with the awareness of public health issues which will stand them in good stead in the health sector of the 21st century.  Under his guidance, the Department of Public Health and Preventive Medicine provided public health education to medical and veterinary medical students and professionals, as well as students and professionals with other backgrounds, aimed at improving the health and well-being of populations, communities and individuals. The PHPM developed into a center of excellent public health teaching, which was further enhanced by collaborative research projects with the Windward Islands Research and Education Foundation (WINDREF), an independent research institute located at St. George's University, local Caribbean governments and institutions in the United States, the United Kingdom and more.
As the University itself continues to expand, so too does this Department's mission to embrace and promote the "One World, One Health, One Medicine" concept. This philosophy focuses on the convergence of animal, human and ecosystem health and is critical to the well being of our global society.  Dr. Amuleru-Marshall worked tirelessly to promote this mission through participation in events like the American Public Health Association Conference (APHA) and National Public Health Week which SGU so proudly sponsored at True Blue.
The University is indebted to Dr. Amuleru-Marshall's service, and as we embark on a new direction which includes greater emphasis on research and local and regional community service, we wish him well as he graciously hands over the responsibilities of the Department to Dr. Omur Cinar Elci.  Dr. Amuleru-Marshall's immediate plans include returning to his greatest love of teaching.  He will continue to advocate for the PHPM, drawing upon his expertise and serving SGU as an ambassador in the Caribbean region.
Dr. Omur Cinar Elci brings more than 20 years of Public Health, Epidemiology and Occupational Health field experience to his role as SGU Professor and Epidemiology Track Director. His areas of expertise include Study Design and Research Methodology, Occupational Epidemiology, Biostatistics and Problem-based Medical Education. Dr. Elci, recently selected Chair of Department of Public Health and Preventive Medicine, will strive to establish collaborative efforts within all schools and department of St. George's as well as develop relationships with governmental and community based agencies in Grenada and the region.
Throughout his career, Dr. Elci has led by example, serving the community, albeit Grenada or his native Turkey, through a myriad of effective and innovative programs. In a recent initiative with the Ministry of Health in Grenada, he and junior faculty Mr. Gerard St. Cyr, Coordinator of Undergraduate Public Health Education, organized and conducted a training course in epidemiology for its workers.  Twenty five participants holding positions which include Community, Public Health, Surveillance Nurses and Medical Officers, took part in four sessions of basic epidemiology training courses designed to introduce fundamental tools of epidemiology which can be used in the daily activities at the Ministry of Health.   The program was a success and set the stage for further collaborations including continued training.
Dr. Elci was previously Associate Professor at East Carolina University and Medical Director at the North Carolina Agromedicine Institute in Greenville, North Carolina. Dr Elci, who enjoys reading, piloting, wildlife, camping, hiking and sailing, received his PhD in Public Health at the Dokuz Eylul University, Certificate in Occupational Health Practice at the Turkish Medical Association and his MD at Ege University in Turkey.
The addition of several other key faculty members with public health experience in both medical and veterinary fields – notably Dr. Muge Akpnar-Elci and Dr. Satesh Bidaissee – demonstrates the University's commitment to continuing the public health tradition set by the first strong 10 years.
St. George's University looks forward to continued growth and development of the Department of Public Health and Preventive Medicine as it approaches a new decade as an international center of academic excellence in public health.
https://www.sgu.edu/wp-content/uploads/2016/11/news-10publichealth1.jpg
250
181
jrichardsink
https://www.sgu.edu/wp-content/uploads/2020/02/sgu-logo-grenada.svg
jrichardsink
2009-02-19 16:29:49
2017-01-18 02:02:25
Department of Public Health and Preventive Medicine: A Thriving and Crucial University Entity Celebrates 10th Anniversary