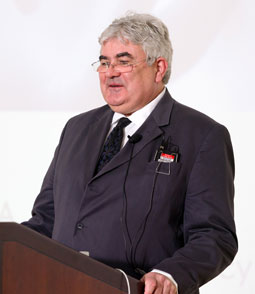 Medicine doesn't stand still. Medical knowledge doubles every five years; the practices and procedures are constantly changing to meet current standards and expectations. The world is changing rapidly, and medical outlooks and practices must change continually.
Sir Duff, Chairman of the Medicines and Healthcare Products Regulatory Agency (MHRA) in the United Kingdom, spoke on the topic – Developing 21st Century Medicine. In his three-part presentation he highlighted the development of modern medicines as an ever changing model.
Following the 18th century evolution of medicine from observation, which yielded disease clarification, contagion theory, the value of exercise, and the relationship between nutrition and health; to comparative clinical trials and experimental biology in the modern era, there has been an increase in the demand and cost of health care. He stated, "Today we have an increasing demand for healthcare which we have been able to meet with supply, but at a cost that is now unsustainable for most countries." He further explained, "There have been immense successes, but we've been victims of our own successes because we have created an economic health care catastrophe of ever-increasing demand met with an ever-increasing supply."
Sir Duff articulated that the solution to this problem is to identify the new era of efficacies through the development of new medicines with a high benefit to risk ratio. He stated, "We need to show that the benefits of the medicine to the patients outweigh the risks," And this can be done, "by stratifying populations and moving towards personalized medicine." He noted that while we may be several decades away from personalizing medicine, we're already stratifying populations for its development. He further ventured into the classical model of developing medicine and the need for a more adaptive clinical trial, including the use of some of the most powerful and promising bio-technology.
Honoring the visionary legacy of the late Geoffrey H. Bourne, Sir Gordon Duff stated, "The first-in- human trial is the gateway between biological research and clinical medicine and we must think about it carefully." This provided the foundation for the third part of his presentation which focused on good prescribing practices.
Sir Gordon Duff is currently the chairman of the Medicines and Healthcare products Regulatory Agency (MHRA), an agency within the Department of Health in the United Kingdom, responsible for ensuring that medicines and medical devices are effective and acceptably safe.
He has been Lord Florey Professor of Molecular Medicine at the University of Sheffield since 1991. From 2000-2009 he was Chairman of the National Biological Standards Board and co-chair of the Scientific Advisory group for Emergencies since 2009. He was knighted in 2007 for services to public health.
https://www.sgu.edu/wp-content/uploads/2016/10/news-sir-gordon-duff.jpg
294
255
VS
https://www.sgu.edu/wp-content/uploads/2020/02/sgu-logo-grenada.svg
VS
2013-06-05 15:33:33
2017-01-18 00:23:41
Developing 21st Century Medicine St. George's University 19th Geoffrey Bourne Memorial Lecture