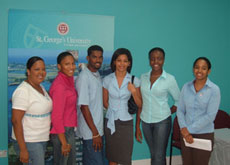 Five undergraduate business students from the St. George's University School of Arts and Sciences recently returned from a seven-month internship at Walt Disney World in Orlando, Florida: an incredible first-time opportunity for these highly motivated students.  The Walt Disney World University Program is currently ranked as one of the top ten internships in the world by Business Week magazine.
After a rigorous application process, which required students to demonstrate a 3.2 or higher GPA and a record of extracurricular activities, students Dana Lalsee of St. Vincent; Nadge Leonce of St. Lucia; and Necia Samuel, Yoan Baldeau and Tornia Charles of Grenada joined 1,000 students from all over the world to participate in this program.  Dr. Reccia Charles, Business Degrees Program Coordinator and Associate Professor of International Businesses and Finance, played an integral role in St. George's University's participation in this program.
Dr. Charles considers this new partnership between SGU and Disney a "major feather in SGU's cap," as Disney only accepts accredited and recognized universities into its program.  "In fact," said Dr. Charles, "Disney was very excited about having students from their first English-speaking Caribbean university involved in this highly competitive program."
For Yoan Baldeau, who is pursuing a bachelor's degree in management, "each week presented a new experience," including on-the job training as a control tower operator at the Animal Kingdom, crowd control and customer service at the Magic Kingdom, and store merchandising at several of the Disney signature shops.
Tornia Charles, a tourism & hospitality management student, was an attraction hostess at the Magic Kingdom, working on such special events as Halloween and Christmas.  Tornia was impressed that Disney empowers its employees to go above and beyond for customer service.
Dana Lalsee, currently in her final term as an international business major, credits SGU for helping her develop professional perspective sufficient to  recognize the thoroughness and logic of Disney's marketing and operational efforts. Former President of the SGU Business Student Association, Ms. Lalsee explained that her responsibilities at Disney focused on the outdoor food and beverage services where she frequently prepared the product in the kitchen for vendor distribution and served as a park vendor.
"At the time, I did not immediately grasp the importance of these opportunities, but looking back at the big picture, I see the direct correlation between my education and the hands-on experience, understanding the importance of inventory control, merchandising and customer service."
In addition to a 40- to 50-hour workweek, students participated in classroom studies which reinforced skills they had learned as undergraduates and provided insight into the day-to-day operations of a world-class entertainment company.  Dr. Charles explained that the lessons offered by the Disney program are a wonderful compliment to SGU's business curriculum.  Students earn between 15-21 credits over the course of the internship.
Yoan was selected to participate in a human resource management course, where he was exposed to the many aspects of staffing, casting, effective communication and crisis management inherent in HR work.  His skills were put to the test, particularly throughout the holiday season when up to 66,000 visitors entered the theme park each day.  When asked what he gained from this experience, Yoan was most impressed by Disney's unwavering attention to its customers: "I was amazed to find a company this large would make customer service and attention to detail its top priority."
Dana found the academic portion of the internships (which for her focused on corporate communications) equally as beneficial. She selected courses that reflected her interest in international business, finding the financial courses which demonstrated how Disney justifies the creation of new attractions and resorts the most relevant to her current academic plan.
Tornia Charles describes this opportunity as an "absolutely amazing experience, which helped me grow personally and professionally, shaping my future as a small business owner."  She explained that although there was an initial adjustment (this was her first visit both to the United States and a Disney Resort), she is grateful for this opportunity, which opened her eyes to many new and exciting career possibilities and sparked her interest in exploring other countries.  After she graduates in May, Tornia plans to further her education in hotel management at a university in the United States.  Her long-term goal is to merge event planning and accommodations into a successful, self-owned and managed business.
Dr. Charles has enlisted this group of seasoned Disney interns to help with recruitment efforts for prospective SGU SAS students and future interns. Communicating their first-hand perspective on the unique value of this program helps would-be interns navigate the selection process.  Ms. Lalsee believes that the Disney internship program will prove to be an incredible draw for future undergraduate students at SGU and encourages students from different majors to apply. Dana explained that a number of majors were represented in the internship program in Orlando, including such disparate fields of study as exercise science, liberal arts and foreign languages.
According to Yoan, Dana and Tornia, the interaction with students from different cultures was an unexpected benefit.  Yoan developed long-lasting friendships with students from Portugal, Brazil, United Kingdom, Canada and Indonesia, and describes the internships as "one of the most wonderful experiences of my life, bringing me that much closer to my dream of being a successful business owner."  Dana said: "The global appeal of Disney's enterprise is so vast and diverse it gave me an unprecedented opportunity not only to build friendships with individuals from many cultures, but also to meet and interact with customers from all over the world."  Tornia remarked that she made friends from countries close to home like Barbados and Trinidad, and from as far away as France and China.
The inaugural group of St. George's University Disney interns represented themselves and the University with pride and dedication.  Javier Reyes, Recruiter Disney International Programs, was impressed with the performance of the SGU contingent, describing them as self-motivated and determined individuals.  SGU and Disney look forward to continuing this fruitful partnership in years to come.
https://www.sgu.edu/wp-content/uploads/2016/11/news-sas-disney1.jpg
165
230
jrichardsink
https://www.sgu.edu/wp-content/uploads/2020/02/sgu-logo-grenada.svg
jrichardsink
2009-03-12 16:36:08
2017-01-18 02:02:11
Disney Internship Broadens Vision for St. George's University Students