More American Students Enrolling in Caribbean Medical Schools Like St. George's University.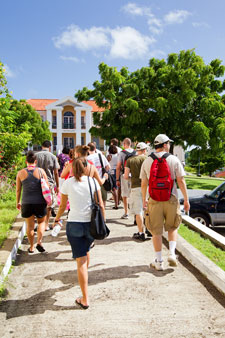 Chancellor Charles R. Modica recently appeared on Forbes.com where he discussed the influx of US students enrolling in Caribbean medical schools like St. George's University. Today, one in every four US doctors has been trained abroad. According to Modica, "There's not enough room in US medical schools for all the medical students who would like to go and are worthy of going."
In the past 10 years, St. George's University's application pool has risen 300% —compare that to an increase of only 140% in US schools. "They go to Grenada because they know St. George's University will give them the best opportunity to come back to the United States and practice medicine," Modica said.
Click here to view Chancellor Modica's full interview.
About St. George's University
St. George's University is a center of international medical, veterinary and liberal arts education, drawing students and faculty from 140 countries to the island of Grenada, in the West Indies. St. George's is affiliated with educational institutions worldwide, including the United States, the United Kingdom, Canada, Australia and Ireland. The University's nearly 10,000 graduates include physicians, veterinarians, scientists, and public health and business professionals across the world. The University programs are accredited and approved by many governing authorities and repeatedly recognized as the best in the region.

https://www.sgu.edu/wp-content/uploads/2016/10/news-doctors-paradise.jpg
338
225
VS
https://www.sgu.edu/wp-content/uploads/2020/02/sgu-logo-grenada.svg
VS
2010-09-07 14:38:10
2017-01-18 01:30:09
Doctors in Paradise