Professor Charles Weissmann, MD, PhD, FRS, was the Twelfth Geoffrey H. Bourne Memorial Lecturer at SGU. Hoards of eager listeners – physicians, professors, students, administrators – packed into the Bourne Theatre on February 16, 2006, to hear this renowned biochemist talk of "Of Mad Cows, Mice and Men."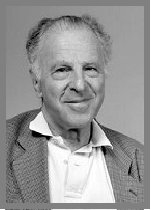 Dr. Weissmann presented an account of the research work that has led to the conclusion that several diseases, namely scrapie in sheep, bovine spongiform encephalopathy in cattle, fatal familial insomnia, Kuru and Creutzfeldt-Jakob disease in humans, are caused by lethal infectious proteins called prions. In his lecture he gave numerous examples of his own research findings that have improved our understanding of these important prion-induced diseases.
One of the world's leading pioneers of modern biochemistry and molecular biology, Dr. Weissmann has contributed significantly to the elucidation of the life cycle of RNA bacteriophages, developed site-directed mutagenesis and reverse genetics, and was the first to clone and express human alpha-interferon genes in E.coli. He has made breakthroughs in the investigations of diseases induced by prions that affect animals and humans. He has been internationally recognized and he has received numerous awards and honors for his work. Dr. Weissmann began his career with doctoral degrees in both medicine and organic chemistry from Zurich University in Switzerland.
Dr. Weissman's lecture was comprehensive, eloquent, and witty – a fitting memorial to Dr. Bourne. Dr. Geoffrey H. Bourne, the first Vice Chancellor of SGU, was an educator, scientist, writer and visionary, who played an exceptional role in the early development of SGU, guiding its growth with a determined and steady hand.
SGU was honored to have Dr. Weissmann join its distinguished list of Bourne Lecturers.
Published on 03/02/2006
https://www.sgu.edu/wp-content/uploads/2020/02/sgu-logo-grenada.svg
0
0
smashm3233
https://www.sgu.edu/wp-content/uploads/2020/02/sgu-logo-grenada.svg
smashm3233
2006-03-02 19:41:26
2017-01-18 03:12:07
Dr. Charles Weissmann Delivers Twelfth Bourne Lecture