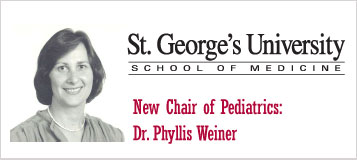 St. George's University is pleased to announce the appointment of Dr. Phyllis Weiner as the Chair of Pediatrics of the School of Medicine, effective September 2008. A native New Yorker, Dr. Weiner has dedicated her career in pediatrics to serving top hospitals in the New York metropolitan area, assisting the community in which she was born, raised and educated.
Dr. Weiner is quite familiar with the responsibilities of the position of Chair of Pediatrics, as she has previously served as Associate, Acting and Interim Chair of the Department. In her role as Chair, she plans to apply her skills as an educator and administrator to promoting a cohesive and dynamic program.  Her plans for the Pediatric Department include "strengthening the clinical programs with emphasis on cultural competency, communications skills, and a heightened focus on professionalism and ethics."
Dr. Stephen Weitzman, Dean of the School of Medicine, and Chancellor Charles R. Modica first approached Dr. Weiner in 1991 when they sought to expand the University's pediatric program and create a rotation at Jamaica Hospital Medical Center. Since that time, she has been involved with St. George's University in many capacities.
Since her first visit to St. George's University's Grand Anse campus in 1991, she has regularly returned to the Island, initially working with the Basic Sciences committee which included Dr. Cheryl Cox Macpherson, Chair of Bioethics Department and Dr. Patrick Rooney, Professor of Clinical Skills, to integrate the Basic Sciences program into the clinical years.
In her role as an educator Dr. Weiner taught the importance for every medical student to recognize signs of neglect and abuse in children. She collaborated with Dr. David Brown, Associate Dean of Clinical Studies, United States, in creating a new final written exam which tests the spectrum of knowledge as taught in the pediatric core clerkship.  Dr. Weiner's additional contributions to the University include establishing a cohesive communication plan with Pediatric Program Directors at all hospital affiliates and assisting in developing a comprehensive student questionnaire for course evaluations.
For 14 years, Dr. Weiner served as Chairperson of Pediatrics and Chair of the Ambulatory Care Network at Jamaica Hospital Medical Center. The Ambulatory Care Network was comprised of an outpatient center on the hospital campus, nine Community Health Centers, a School Health Program and a WIC Program dedicated to nutrition for women and children. Throughout her career — which spans an impressive 40 plus years — she has applied her expertise in pediatrics, primary care, emergency medicine, medical education and child abuse to a myriad of committees, task forces, inner-city outreach programs and medical mission work. She is one of the first physicians in the country to implement a hospitalist program.   Dr. Weiner is a member of the international, non-profit, volunteer organization "Healing the Children," and has worked in Ecuador as part of a team of specialists who provide medical aid to children throughout the globe.
Dr. Weiner resides in Queens, New York, with her husband, Dr. Barry Weiner, Chief of Nephrology at Jersey City Medical Center.  Dr. Barry Weiner is also active at St. George's University School of Medicine, in his role as Clinical Professor, teaching St. George's students and collaborating with Dr. David Brown in the development of new final exams for the 3rd year clerkship in Medicine.
Both Dr. Weiners are most proud of their four children Elyse, Valerie, David and Lee and six grandchildren (Jonathan, Matthew, Sabrina, Lindsey, Isaac and Zoe), and are grateful for the opportunity to see them on a regular basis as their family lives nearby.
Published on 10/8/08
https://www.sgu.edu/wp-content/uploads/2020/02/sgu-logo-grenada.svg
0
0
Erin Shaw
https://www.sgu.edu/wp-content/uploads/2020/02/sgu-logo-grenada.svg
Erin Shaw
2008-10-08 02:17:00
2017-01-18 02:18:03
Dr. Phyllis Weiner: New Chair of Pediatrics