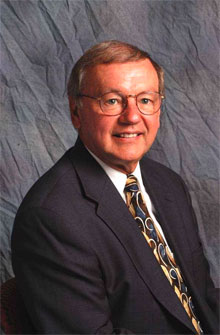 Dr. John Sensakovic is passionate about education, not just with regard to general medicine but in his subspecialty of infectious disease. In his new role as Chair of Medicine at St. George's University (SGU), he plans to incorporate an approach to medical education which addresses the growing need for heightened professionalism, communication and a fully integrated systems-based practice of medicine.
Dr. Sensakovic explained that as the global community continues to expand, the need to understand and relate to individuals of diverse cultural backgrounds is of paramount importance to both new and established physicians. "As patients are expected to get more involved in their own health care, doctors must be prepared to address their needs in a professional, compassionate and ethical manner."
Dr. Sensakovic raised the question: "How do we (the medical industry as a whole) measure professionalism?" While a tangible scale has yet to be established, this is an issue he is eager to address in the curriculum at St. George's University. "SGU's culturally diverse student body represents the ideal audience to address several key issues facing medical education both globally and in Grenada, namely the importance of improved communication skills, cultural competence and sensitivity. Medical students today need to recognize that they, in conjunction with their future patients, are part of a whole unit working together for optimum results," said Dr. Sensakovic.
Dr. Sensakovic believes the ability to practice medicine effectively also requires the collective use of experts in various subspecialties, which include nurses, occupational and physical therapists, and multi-skilled physicians. "A fully integrated systems-based practice of medicine is critical to the successful treatment of the patient," said Dr. Sensakovic. Also emphasizing the importance of 'practice-based learning,' he explains, "While students are in medical school for four years and residency for three, they must be encouraged to learn and teach throughout their careers. It is equally as important for seasoned physicians to continue to stay ahead of the learning curve as they too learn and master state-of-the-art practices."
Although his role as Chair is a new endeavor for Dr. Sensakovic, his affiliation with St. George's University dates back nearly 25 years. At the time, Dr. Sensakovic was the Director of Medical Education at St. Michael's Medical Center in his home state of New Jersey, the first hospital in New Jersey offering a clinical program to SGUSOM students.  It now accepts the largest number of SGUSOM students in its residency program, with a total of 13 students from last year.  In 1984 he was asked by Dean Allen Pensick, then a Professor in Microbiology, to evaluate SGU's Basic Sciences program which was in Barbados.  Armed with a PhD in clinical microbiology, Dr. Sensakovics' expertise was critical to the successful integration of the curriculum into the clinical program.
Since then, he has spent over 10 years as a guest lecturer at SGU on patho-physiology, and as a faculty member since 1985.   Dr. Sensakovic views his new position as Chair of Medicine as a continuation of an already valued relationship with St. George's University faculty, staff and student body.
Dr. Sensakovic is Director of Medical Education at Saint Michael's Medical Center and Associate Dean of Academic Affairs for the Seton Hall University School of Graduate Medical Education. He received a bachelor's degree in microbiology from Rutgers University and earned a doctorate in clinical microbiology from the Graduate School of Biomedical Sciences at the University of Medicine and Dentistry of New Jersey (UMDNJ) as well as an MD.
Dr. Sensakovic completed a residency in internal medicine and a fellowship in infectious disease at Saint Michael's Medical Center, and he is board certified in both specialties.  In 1982 he became Director of Medical Education.
He was recognized by New Jersey Monthly as one of the "Top Five" infectious disease specialists in New Jersey and, in 1997, he received the Governor's Clara Barton Medical Service Award, the highest award bestowed by the State of New Jersey on a citizen for outstanding contribution to the welfare of human life.  Dr. Sensakovic  is also President of the Infectious Disease Society of New Jersey and is a member of the Governor's Advisory Council on HIV/AIDS, the Governor's Medical Emergency Preparedness and Response Expert Panel and the Governor's Pandemic Advisory Group.
While Dr. Sensakovic is clearly dedicated to the field of medicine and medical education, he is also a devoted husband, father and grandfather.  Spending time at New Jersey's Shoreline with his wife, two children and two grandchildren, Lauren and J.T., is one of his greatest pleasures.
Published on 8/4/08
https://www.sgu.edu/wp-content/uploads/2020/02/sgu-logo-grenada.svg
0
0
Erin Shaw
https://www.sgu.edu/wp-content/uploads/2020/02/sgu-logo-grenada.svg
Erin Shaw
2008-08-04 02:19:28
2017-01-18 02:25:05
Dr. Sensakovic: New Chair of Medicine