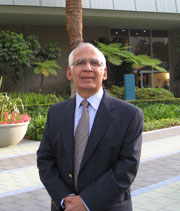 On April 27th, Dr. T. Vidhya (Vid) Persaud's distinguished career as an educator was recognized by the American Association of Anatomists (AAA) at the society's Annual Meeting in Anaheim, CA. Dr. Persaud was presented with the 2010 Henry Gray/Elsevier Distinguished Educator Award, the AAA's highest award for human anatomy education in the anatomical sciences, broadly defined to include gross anatomy, embryology, histology, and neuroanatomy.
Dr. Vid Persaud joins an elite group of educators in the field of anatomical sciences. His nomination and selection by the AAA Award Committee, chaired by Anna Lysakowski, is a true testament to his commitment to excellence within his profession.
Dr. Persaud is widely published with extensive research contributions in the areas of embryology, developmental biology, and teratogenesis including 25 books and monographs, 35 book chapters, and 160 primary research papers. He trained 25 fellows and graduate students, all of whom have achieved academic excellence in their own careers. His expertise in normal and abnormal development led to invitations to serve on 8 journal editorial boards, more than 35 professional appointments, and almost 40 visiting professorships. He has been a member of 14 professional societies or associations, serving as the president of 3 of these organizations.
Dr. Persaud taught a wide array of courses on embryology and birth defects, as well as teaching gross anatomy to medical and dental students, for which he received several awards and honors including the J.C.B. Grant Award from the Canadian Association of Anatomists, presented annually to an outstanding internationally recognized senior scientist in recognition of special merit and achievement in research and teaching in the field of anatomy, neurobiology, or cell biology. He also received the Honored Member Award of the American Association of Clinical Anatomists (2008) for significant contributions to the field of clinically-relevant anatomy. He regularly teaches review courses in clinical anatomy and embryology for residents in surgery, obstetrics and gynecology, and radiology.
Dr. Persaud studied in London, England and in Germany, receiving his MD (summa cum laude) from the University of Rostock, Germany, in 1965. After completing his internship in Berlin, he returned to his native Guyana, where he worked as a government medical officer. After completing his PhD in anatomy at the University of the West Indies, Jamaica, he served there as a Senior Lecturer.
In 1972, Persaud accepted an academic appointment in the Dept. of Anatomy and Cell Science, Faculties of Medicine and Dentistry at the University of Manitoba, Canada where he dedicated the next 30 years to his faculty and discipline. In 1977, just five years later, he succeeded Keith Moore (also a recipient of the Henry Gray/Elsevier Distinguished Educator Award) as chair of that department. For the next 16 years, Dr. Persaud worked tirelessly in this position, developing the department into one of the premier units not only at the University of Manitoba (the largest university in the province of Manitoba), but also throughout Canada and abroad.
He remains active in the gross anatomy laboratory, instructing medical students as a visiting professor at St. George's University. St. George's University's Dean of Enrolment Planning, Margaret Lambert, said of Dr. Persaud, "Our University has been lucky to have such a wonderful educator to help teach our students to be the best doctors possible. We (the University staff, faculty, and students) have also been fortunate to have known Dr. Persaud as a person. Our lives have been enriched by his contributions. "
The first recipient of the Henry Gray/Elsevier Distinguished Educator Award's was Dr. Keith L. Moore in 2007. Dr. Moore is a professor emeritus in the division of anatomy (department of surgery), former Chair of anatomy from 1974 to 1984 and associate dean for Basic Medical Sciences (Faculty of Medicine) at the University of Toronto, Ontario, Canada. Following recipients were Dr. Duane Haines (University of Mississippi, Jackson, Mississippi, U.S.A), 2008 and Carmine Clemente (University of California, Los Angeles, U.S.A.), 2009.

https://www.sgu.edu/wp-content/uploads/2016/10/news-vid-persaud.jpg
211
180
VS
https://www.sgu.edu/wp-content/uploads/2020/02/sgu-logo-grenada.svg
VS
2010-05-07 15:15:21
2017-01-18 01:39:47
Dr. T. Vidhya Persaud Recognized by American Association of Anatomists