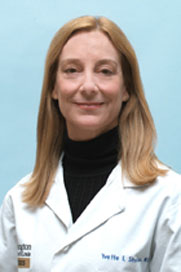 Dr. Yvette Sheline, Professor of Psychiatry, Radiology and Neurology and Director of the Center for Depression, Stress and Neuroimaging, Washington University School of Medicine,
delivered the 10th Annual WINDREF Lecture on the evening of
March 16th at Bell Lecture Hall on St. George's University's True Blue campus.  She drew upon an accomplished career in Psychiatry, with a specific research focus on neuroimaging and treatment studies of depression.  She spoke on the topic: "Brain Imaging: New Insights into Neuropsychiatric Disorders."
Since the inception of the WINDREF Lecture Seriesin 2000, Dr. Sheline joins an impressive list of guest speakers who are experts in their fields, including Professor Sir Andrew Haines, Director of the London School of Hygiene and Tropical Medicine, Professor David Molyneux, President of the Royal Society of Tropical Medicine and Hygiene and Dr. John Rouben David, a prolific author and award winning specialist on leishmaniasis.
Dr. Sheline addressed the audience of SGU faculty, research scientists and students, emphasizing the use of neuroimaging in the diagnosis and treatment of Alzheimer's disease.  Alzheimer's disease is the most common form of dementia, a term that is used to describe a group of brain disorders which cause memory loss and make it harder to carry out daily tasks.  Dr. Sheline explained that the development and advancement of molecular imaging techniques of amyloid plaques in Alzheimer's patients are critical to early diagnosis and evaluation.  The abnormal accumulation of amyloid in organs is thought to play a significant role in various neurodegenerative diseases.
After graduating from Harvard University, Dr. Sheline received an MS in neurophysiology at Yale University and an MD at Boston University Medical School.  She completed psychiatry residency training at Harvard's Beth Israel Hospital.
A recipient of many awards including the National Alliance for Research on Schizophrenia and Depressions (NARSAD) Young Investigator and Independent Investigator Awards and a NARSAD Klerman Award Honorable Mention, Dr. Sheline's research studies have identified structural brain changes in MRI studies of depression, serotonin neurotransmitter changes on PET scans, and functional alterations in the emotional circuitry seen during MRI studies of depression.
Dr. Sheline has also served on the Board of the American Association of Geriatric Psychiatry, and has published her work in several top-tier academic journals, including PNAS, The Journal of Neuroscience, The American Journal of Psychiatry, Biological Psychiatry, Neuropsychopharmacology, and the American Journal of Geriatric Psychiatry.
The Windward Island Research and Education Foundation (WINDREF) was established in 1994 to advance health and environmental development through multidisciplinary research and education programs.  WINDREF provides a scientific resource center which promotes collaborative relationships between internationally recognized scholars and regional scientists, adhering to the highest ethical and academic standards in all research endeavors.
https://www.sgu.edu/wp-content/uploads/2016/11/news-Sheline-big.jpg
272
181
jrichardsink
https://www.sgu.edu/wp-content/uploads/2020/02/sgu-logo-grenada.svg
jrichardsink
2009-04-09 16:42:06
2017-01-18 01:55:23
Dr. Yvette I. Sheline Delivers 10th WINDREF Lecture at St. George's University