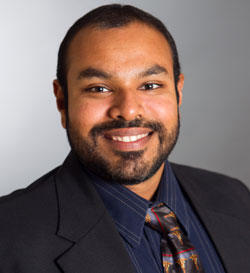 St. George's University will offer its first massive online open course (MOOC) on Monday, November 4, with an introductory One Health One Medicine course designed to introduce students to this exciting developing field. The course is free and open to the public.
Dr. Satesh Bidaisee, Associate Professor and Deputy Chair of SGU's Department of Public Health and Preventive Medicine, will lead the eight-week online course, which was designed by Jonathan Modica of Nutmeg Education. Its focus is One Health One Medicine, a concept that is changing the way we perceive and tackle the world's health problems.
"With 75 percent of all human infections derived from animal origin, there is a critical need to integrate the common problems for human and animal health to determine common solutions," Dr. Bidaisee said.
Divided into seven sections, this course highlights One Health One Medicine in a variety of topics, including emerging infectious diseases, zoonotic diseases, food safety, environmental health, and international health.
SGU is a leader in promoting Once Health One Medicine, so it's appropriate that it provides one of the first master's level public health MOOC courses on the concept. Students enrolled in this course can expect to spend about two hours working toward completing each section, including case studies, discussion topics and assignments.
"A MOOC by nature is designed to make available educational opportunities to the large number of students, and with medicine, veterinary medicine and public health being the interests of large numbers of students around the world, there is a direct need that MOOCs can address," Dr. Bidaisee said. "SGU's One Health One Medicine course integrates medicine, veterinary medicine, and public health for students from around the world to identify and apply its concepts globally."
Advanced courses will soon be developed to build on students' knowledge and application of the concept of one health one medicine in their respective fields of health care. In addition, the introductory course will be offered again this spring.
To register for the One Health One Medicine course, visit https://www.canvas.net/courses/one-health-one-medicine.
https://www.sgu.edu/wp-content/uploads/2020/02/sgu-logo-grenada.svg
0
0
VS
https://www.sgu.edu/wp-content/uploads/2020/02/sgu-logo-grenada.svg
VS
2013-11-01 19:04:07
2017-01-18 00:10:17
Eight-Week Course Focuses on Changing World of Global Medicine