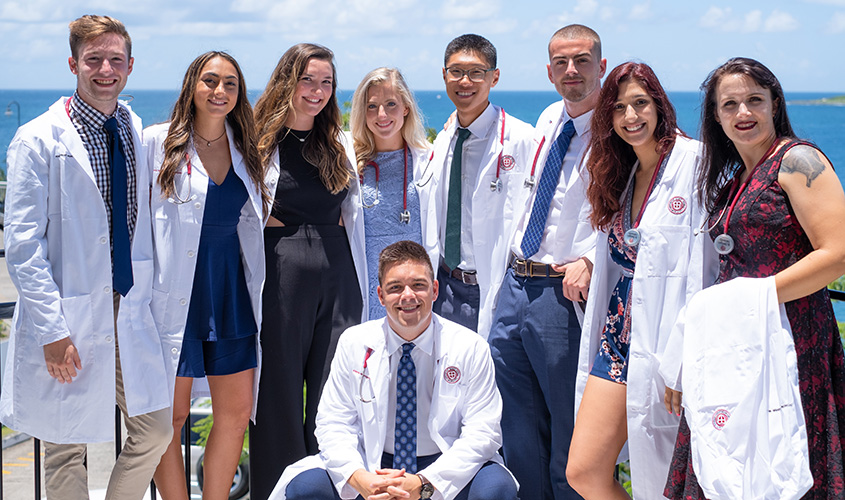 Once a St. George's University student herself, Deborah Coy, MD '88, returned to Grenada 17 years later with the eldest of her three daughters, Danielle, now a first-term School of Veterinary Medicine student at SGU. The veterinarian-in-training joined her Class of 2023 brethren in August for the SVM White Coat Ceremony, marking their entry into the veterinary medical profession.
This fall marks the 20-year anniversary of the school opening its doors in True Blue. Dr. Coy marveled as the changes to campus, and cherished the opportunity to coat her daughter as she took the next step toward becoming a career in veterinary medicine.
"The changes to the campus since the last time I was here are so impressive. I love it," enthused Dr. Coy, now a practicing pediatrician in Towaco, NJ. "I am so very proud that my daughter chose to attend SGU. I feel like she's reliving what I did so many years ago."
"In a way, I grew up here at SGU," shared Danielle Macstudy. "My mom brought me back several times until I was about 4 or 5 years old. I've always known I wanted to work with animals, so from a young age I knew I wanted to become a veterinarian. Then I fell in love with SGU from hearing all of these wonderful stories from my mom.
"That's why I wanted to come here just like she did."
Also returning to SGU was alumnus and master of ceremonies Tatiana De Oliveira, DVM SGU '12. She welcomed them to the veterinary medical profession, assuring them that opportunities were boundless but also reminding them, that regardless of which career path they took, they would now have the ability to make a huge impact on the lives of people and animals.
"Get to know your amazing faculty. They are your biggest supporters," she encouraged. "Go explore this beautiful island, there's so much to do, to see, and to learn. Remember to set goals for yourself, big and small. And finally stay focused and seek help when times get tough. Always remember why you started this journey in the first place and remember how inspired you are today."
In his keynote address, Dr. Willie M. Reed, an internationally recognized expert in avian pathology, diagnostic medicine, and infectious diseases, also touted St. George's University for providing an excellent foundation for more than 1,600 veterinarians since opening in 1999. He advised the students to set their goals one brick higher than they thought possible on the foundation that they would be given as veterinary students. He encouraged them to never stop pursuing their dreams, to always have more dreams than memories, and that dreams don't end upon admission to veterinary school.
"You will be the leaders who must guide the veterinary profession as it expands its horizons in the 21st century," stated Dr. Reed, dean of the College of Veterinary Medicine and Professor of Veterinary Anatomic Pathology at Purdue University. "The challenges will be significant, but rest assured the next four years will prepare you to assume this mantle of responsibility. I encourage you to take full advantage of the unique odyssey you are about to embark upon to fulfill the potential which each of you possesses."
St. George's University School of Veterinary Medicine recently earned full reaccreditation from the American Veterinary Medical Association's Council on Education. This allows SGU graduates to seek licensure in the United States and Canada after passing the North American Veterinary Licensing Examination. It also allows US students to apply for federal loans and deferments through the William D. Ford Federal Direct Loan Program.
St. George's University students spend their first three years in Grenada and complete their final year of study at an accredited affiliated school. The SVM has clinical partnerships with 29 other universities in the United States, United Kingdom, Canada, Ireland, Australia, and Grenada.
– Ray-Donna Peters
https://www.sgu.edu/wp-content/uploads/2019/09/SVM-WCC-August-2019-845-x-500.jpg
500
845
bpmauser
https://www.sgu.edu/wp-content/uploads/2020/02/sgu-logo-grenada.svg
bpmauser
2019-09-06 20:54:35
2021-02-25 21:15:58
Fall 2019 Veterinary Class Embarks on "Unique Odyssey"