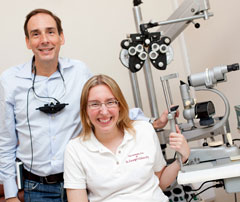 A father-daughter team, comprised of Orazio Giliberti, SGUSOM '82 and Francesca Giliberti, SGUSOM '10, launched an Ophthalmology Clinic this spring in Grenada. Their two-day visit marked the opening of the clinic which will work in conjunction with the University's Adult Visiting Cardiology Program to provide medical services to both the University and local Grenadian community. The clinic runs as part of the Ophthalmic Division of St. George's Clinical Sciences Department.
The father-daughter team was happy to report that many students and graduates of the University expressed interest in the program and volunteered to be included on the rotation schedule to staff the clinic. "We are happy to be able to provide ophthalmic care for the island residents and can do so only because our students— who are now graduates, doctors, and attendants— have specialties in many areas of medicine," explained Dr. Orazio Giliberti, the first St. George's graduate to specialize in ophthalmic care.
On opening day the father and daughter duo conducted complete eye examinations on more than 20 people and diagnosing and treating cases of glaucoma and cataracts. Clinic patients benefited from medical advice, medication, and in some instances, a special 24-hour treatment to alleviate eye pressure. Drs. Orazio and Francesca Giliberti also met with local ophthalmologists to showcase the equipment and facilities available at the Ophthalmological Clinic and with Honorary Anne Peters, Grenada's Minister of Health, to discuss possible collaboration with the Government of Grenada in the future.
Overall, the clinic proved to be successful with a strong turnout and positive reviews from patients. Dr. Orazio Giliberti expressed his hope for the future of the clinic. "It is my vision to have a presence on the island and have an ophthalmic clinic co-existing with other sub-specialties."
After graduating St. George's, Dr. Giliberti returned to Grenada in 1986 to open the University's first eye clinic on the Grand Anse Campus. Since that time he has continued to engage in charitable work and host clinics on the island while in his current role as Associate Dean of Clinical Studies and the Director of Ophthalmology at St. George's University. In addition to his private practice in Totowa, New Jersey, Dr. Orazio Giliberti is the Chairman of Seton Hall University. His daughter, Dr. Francesca Giliberti credits her father as the major inspiration in her life. She plans to follow in her fathers footsteps and is currently pursuing a specialization in ophthalmic care.
https://www.sgu.edu/wp-content/uploads/2016/10/news-father-daughter-sgu-alumni.jpg
202
240
VS
https://www.sgu.edu/wp-content/uploads/2020/02/sgu-logo-grenada.svg
VS
2011-05-23 17:38:19
2017-01-18 01:16:54
Father and Daughter SGU Alumni Launch Ophthalmology Clinic in Grenada