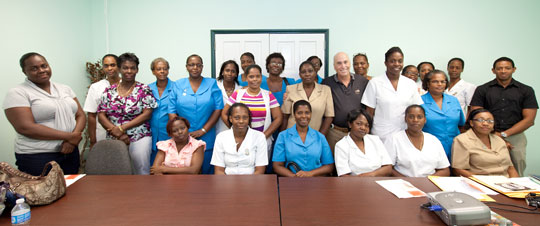 Nursing staff from St. George's General Hospital and representatives from the Ministry of Healthpose for a group photo with Dr. Jay Helman at the Ministerial Complex.
More than 120 Grenadians took advantage of free foot care during a week-long podiatry clinic held at the Tivoli Health Center and St. George's University Health Services Clinic in Grenada, West Indies. Dr. Robert Helman, a 1997 graduate of the St. George's School of Medicine, has been volunteering his services to the people of Grenada since 2003. During one of his customary visits to the island, he revealed that his father, Dr. Jay Helman, was a podiatrist—a class of doctors not commonly found in Grenada. When his services were requested, Dr. Jay Helman was thrilled at the opportunity to give back to Grenada and to the University responsible for his son's successful career in medicine. The father son duo has been conducting clinic visits ever since.
During the podiatry clinic in December, nearly 90 percent of those who sought health care required wound care. Nurses and practitioners provided compression dressing in order to speed up the rate at which the wound heals. Dr. Jay Helman took the opportunity to meet with nurses and present a lecture on how to prevent and treat wounds. "The nursing staff is caring; they are interested and they are very competent," he described. "The problem is that they don't often have the things they need. I try to bring down as many wound-care supplies as I can, but unfortunately supplies do run out. What I try to do when I'm in these clinics, with these nurses, is to try to teach them how to make use of what we have and improvise with available materials."
For Dr. Robert Helman the visit served as an opportunity to exchange current medical knowledge and procedures with practitioners on the island. As the Director of Emergency Medicine at Peninsula Hospital Center in New York City, he has dealt with a wide range of medical emergency situations —from gun shot wounds to strokes and heart attacks. Because of his specialization in emergency medicine, Dr. Robert Helman e took the opportunity delivered lectures about the field to the physicians at the Casualty (Accident & Emergency) Department of the General Hospital in Grenada. "I've been well-received, and I've gotten to know them (medical practitioners) very well. We have both learned a lot from each other so it's been a really great experience. It's quite rewarding."
The week-long podiatry clinic was organized through the Virtual Hospital Program which enables St. George's University alumni and friends to aid the Ministry of Health and government of Grenada in improving healthcare in the country. Coordinator of the Virtual Hospital Program, Mr. Brendon La Grenade, comments, "We at SGU are thankful to the vast network of friends and associates volunteering their time and expertise to this venture as we continue to work hand-in-hand towards the goal of top-notch healthcare delivery here in Grenada." In addition to clinics, the program involves mentoring, lectures, and teaching workshops for nurses and doctors.
Dr. Jay Helman provides tips for good foot health, "The first thing is to complete self-examination daily. If you notice your legs swelling at the end of the day, you need to get your feet elevated—not just off the ground but higher than your chest to get the blood flowing again." Ultimately, the father and son team hope to establish a wound care team of visiting and local medical personnel—both physicians and nurses—to help care for patients and reduce the number of amputations by at least 50 percent. Dr. Jay Helman explains, "The cost—economic, psychological and physical— both to the individual and their families is enormous. If we can help prevent amputations with the preventive care offered in this clinic, we can save a lot of limbs and a lot of heartache." The Helmans, along with the Virtual Hospital Program and Ministry of Health, once again demonstrate how the University and Grenadian people stand to benefit by working together.
The University is grateful to Drs. Jay and Robert Helman and family, St. George's University Virtual Hospital Coordinator Brendon La Grenade, Grenada's Ministry of Health, as well as the participating clinics, nurses, doctors, patients, and all stakeholders who were involved in making this year's clinic a success.

https://www.sgu.edu/wp-content/uploads/2016/10/news-father-son-conduct-podiatric-clinic-story.jpg
226
540
VS
https://www.sgu.edu/wp-content/uploads/2020/02/sgu-logo-grenada.svg
VS
2010-12-20 15:09:37
2017-01-18 01:24:49
Father and Son Conduct Podiatric Clinic