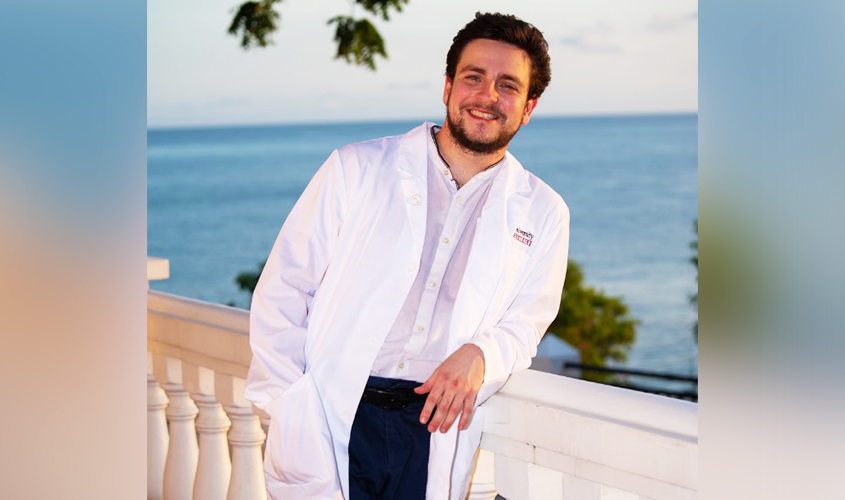 For some, pursuing a career in medicine is less of a choice and more of a calling. This is true for Nathaniel Kleytman, a Term 4 School of Medicine student at St. George's University and a recent recipient of the Sanofi TORCH award.
"Nathaniel is a true advocate and embodies the characteristics of a TORCH award winner. As he continues the next chapter of his life in medical school, it is without a doubt that Nathaniel will carry on making a difference in the lives of rare disease patients," said Kate Tighe, head of US Public Affairs & Patient Advocacy – Rare Diseases at Sanofi. "We are honored to call him a TORCH Award recipient and look forward to his many future achievements on behalf of the rare disease community and in the practice of medicine."
The Sanofi TORCH award recognizes those who have contributed and brought awareness to a lysosomal storage disorder community or a Sanofi research and development area. Mr. Kleytman was nominated and recognized for his continuous patient advocacy and research on Gaucher disease, a cause that has personal significance. He was diagnosed with the rare disease as a teenager, after a nearly decade-long medical journey of pain, bone crises, rehabilitation, homeschooling, misdiagnoses, and avoidable surgeries.
The work Mr. Kleytman was recognized for includes connecting and speaking with patients with Gaucher disease and other lysosomal storage diseases across the US through educational articles, motivational videos, blog posts, and question-and-answer forums. His other projects include clinical research, abstract presentations, and published papers on Gaucher disease. The recognition comes with a $5,000 donation to a charity of Mr. Kleytman's choice.
Mr. Kleytman said the award reinforces his drive to become a doctor and continue to be an advocate and researcher for the rare disease community.
"Winning this award is immensely heart-warming and gratifying as the recognition that comes with it confirms the value of my effort and once again underscores the need for the work that I, and those I have been honored to work with, do," Mr. Kleytman shared. "I appreciate the opportunity to advocate for patients and positively impact their lives."
In addition to his advocacy work, Mr. Kleytman's clinical and basic science research at Yale University resulted in a published paper, Incremental biomarker and clinical outcomes after switch from enzyme therapy to eliglustat substrate reduction therapy in Gaucher disease, that shows novel conclusions about treatment regimens with the potential to reduce the disease burden for Gaucher Disease patients.
"Not only are the conclusions of this research immensely gratifying and important for the scientific community and patients struggling with Gaucher, but I walked away with a plethora of medical, practical, and professional knowledge to carry with me into clinicals," said Mr. Kleytman.
"The work Nathaniel has done is truly deserving of this recognition," said Dr. Marios Loukas, dean of SGU's School of Medicine. "We are so proud of him and know the lessons from this experience are emblematic of the calling of a true physician and hopefully is just the beginning of what he will accomplish throughout his career."
Mr. Kleytman is expected to graduate from SGU in 2025. He hopes to become an orthopedic surgeon.
Beyond that, Mr. Kleytman added, "I want to make direct and palpable changes, to be a part of the team that helps patients walk out of the hospital independently and with a smile."
—Sarah Stoss and Laurie Chartorynsky
Related Reading  
https://www.sgu.edu/wp-content/uploads/2022/09/N-Kleytman-845-x-500.jpg
500
845
sstoss
https://www.sgu.edu/wp-content/uploads/2020/02/sgu-logo-grenada.svg
sstoss
2022-09-14 10:12:27
2022-09-14 10:14:33
From patient to advocate: SOM student recognized with prestigious award