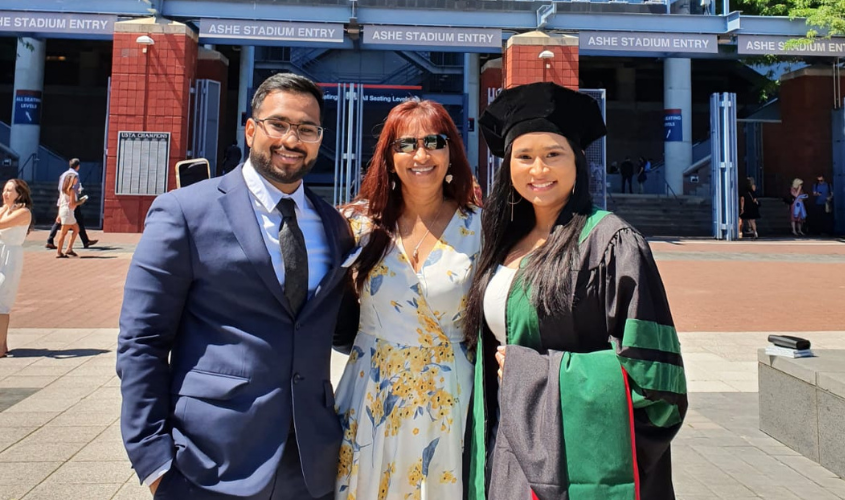 Grenadian nationals Natalie Harford, MD '22, and her older brother Nicholas Harford, MD '20, have always been inseparable when it came to attending school. So, it came as no surprise when Dr. Natalie Harford made the decision to follow in her brother's footsteps and attend St. George's University two years after he enrolled.
"The fact that my brother went to SGU played a big part in my decision at the time," said Dr. Harford, who graduated this past June. "What can I say—my brother has always been a successful role model throughout my life, and I don't regret my decision to apply to SGU one bit."
Indeed, the family had much to celebrate as the younger Dr. Harford walked across the stage to be hooded by her sibling at SGU's 41st commencement ceremony at the USTA Billie Jean King National Tennis Center in Flushing, NY. Like her brother two years earlier, she and her fellow students from the Class of 2022 join a network of more than 19,000 alumni practicing in the United States and around the world.
"Hooding my sister was a great honor," said Dr. Nicholas Harford, currently an internal medicine resident in Connecticut and the first doctor in their family.
"It was also extra special to be a part of the experience standing on stage since I wasn't able to stand there at my own commencement ceremony in 2020 due to the pandemic. We owe that moment to our parents as they supported both of our dreams to become doctors. It would not have been possible without them."
A Family Celebration
Having two children in medical school at the same time did provide a challenge for the Harford siblings' parents—with both working full time jobs to make their children's dream of becoming physicians possible. Their mother, Pratima Harford, also ran a successful international take-out food stall called Flavor House just outside of the True Blue campus. Over the years, she's fed many SGU students and sometimes acted as a second mother while they were studying far from home.
"It was definitely a lot of sacrifice and a huge life challenge that we took on as a family," shared Mrs. Harford. "The moment when our son hooded our daughter, we felt like we were witnessing our nine years of hard work come together in that one special moment. We couldn't have been prouder of how happy and successful they both have become. It was truly a celebratory day for our entire family."

A Doctor in the Making

Born in Guyana, and living in the Fiji Islands for five years, the Harford family eventually moved to Grenada.
Upon graduating from secondary school in Grenada, Dr. Natalie Harford had the option to attend T. A. Marryshow Community College or apply to SGU's premedical program. Passionate about science—particularly anatomy—she carefully considered her options before joining her brother at SGU.
"I was drawn to SGU because it offered me a continuous seven-year pathway to earn my medical degree," stated Dr. Harford. "And who wouldn't want to enjoy being in the comfort of their home country to complete a degree, especially when it happens to be a paradise island like Grenada."
"The best advice I can give anyone considering applying to medical school is to go after your passions and don't be afraid to encounter challenges on the journey, it makes the reward that much sweeter."
During her time at SGU, Dr. Harford was a member of the American Medical Student Association (AMSA) and the Indian Cultural Student Association (ICSA). She was also a teaching member of the Department of Educational Services (DES) and the Academic Enhancement Program (AEP).
"At SGU I grew both academically and personally," said Dr. Harford. "In addition to pursing my medical degree, I had the pleasure of expanding my knowledge on the different cultural backgrounds of my peers and newly made friends. This was an invaluable experience, learning how to communicate and understand someone else's belief system and how it impacts their lives—a skill I foresee utilizing to better the way I communicate in both my practice of medicine and in my everyday life."
Dr. Harford will be entering the 2023 Match and hopes to secure a residency in pediatrics. The COVID-19 pandemic threw a wrench in her clinical rotation timeline causing delays which prevented her from applying to this year's Match.
"From day one of my pediatrics core rotation, I fell in love with the energy, the people, and the patients," she said. "Being a part of a pediatric team of healthcare professionals feels like my niche, and I cannot wait to join this amazing specialty."
For now, Dr. Harford's current plans include giving back to her alma mater as a teaching fellow, while brushing up on her Spanish and sign language skills, along with completing her USMLE Step 2 examinations and her ERAS application.
"The best advice I can give anyone considering applying to medical school is to go after your passions and don't be afraid to encounter challenges on the journey, it makes the reward that much sweeter," she said.
– Ray-Donna Peters
Related Reading 
https://www.sgu.edu/wp-content/uploads/2022/07/TWASGU-845x500-35.png
500
845
rpetersgmail
https://www.sgu.edu/wp-content/uploads/2020/02/sgu-logo-grenada.svg
rpetersgmail
2022-07-28 09:00:39
2022-12-29 16:22:08
Grenadian SOM Grad Continues Family Legacy in Medicine