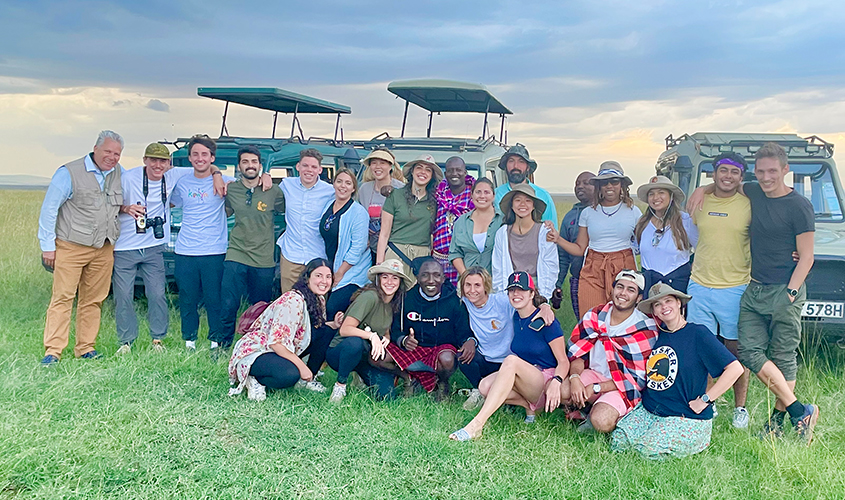 For the first time since 2019, a group of St. George's University School of Medicine students honed their cultural understanding and competency in providing medical care through a unique study abroad experience.
Last month, 20 students embarked on a two-week trip to Kenya as part of the 2022 Kenya Selective. During the experience, students were introduced to the culture of the country as well as to the way Kenyans, in different parts of the country and under different circumstances, receive health and community care. The students participated in activities such as ward rounds at several hospitals, visiting a local orphanage, and even got to hike amongst the wildlife in the Great Rift Valley in Hells Gate National Park.
"Going to Kenya was an eye-opening experience for me," said Kadee-Ann Fleming, an incoming Term 2 SOM student who participated in this year's selective. "I gained a wider perspective of global healthcare and was amazed by the exceptional work ethic of the healthcare professionals there."
Ms. Fleming aims to become a well-adapted physician and be an excellent representation of hope and positivity to her future patients, she said. As an experience focused on emphasizing compassion in medicine, the Kenya Selective brought Ms. Fleming several steps closer to achieving this goal, she said.

What Is the Kenya Selective?
The Kenya Selective provides Term 1 and 2 SOM students with practical experience in tropical medicine. The opportunity to participate in ward rounds—a highlight of the trip—is unique, as students typically need to wait until their clinical years for this type of training. The curriculum helps students gain insight into the field of global health and the specific healthcare dynamics in Kenya.
"The most common feedback from students is that the selective provides a life-changing experience," said Dr. Calum Macpherson, dean of the School of Graduate Studies, director of research at campus-based Windward Islands Research and Education Foundation (WINDREF), and course director for the Kenya Selective.  "They're able to see a part of Africa in a unique way and understand the significance of One Health, which broadens their perspective as aspiring physicians."
In the past, international selectives available to students included trips to Thailand, Prague, Sweden, and India. Information on future selectives will be available on the Basic Sciences Selectives portal page.
"Selective courses offer students unique experiences that may not be covered in their regular curriculum, based on the passions and experience of each individual instructor," said Charles 'Wes' Price, director of the Center for BioMedical Visualization and instructor of anatomical sciences. "We are passionate about teaching concepts that we use daily and that enhance the offerings students normally receive in their degree."
As for what the 2022 Kenya Selective offered Ms. Fleming, she reflected on how the uniqueness of the experience increased her passion for medicine: "I truly developed a greater appreciation for my chosen career, for which I am very grateful."
—Sarah Stoss
Related Reading
https://www.sgu.edu/wp-content/uploads/2022/07/Kenya-Selectives-845-x-500.jpg
500
845
sstoss
https://www.sgu.edu/wp-content/uploads/2020/02/sgu-logo-grenada.svg
sstoss
2022-07-28 09:59:01
2022-07-29 12:33:42
Kenya study abroad experience for future MDs returns