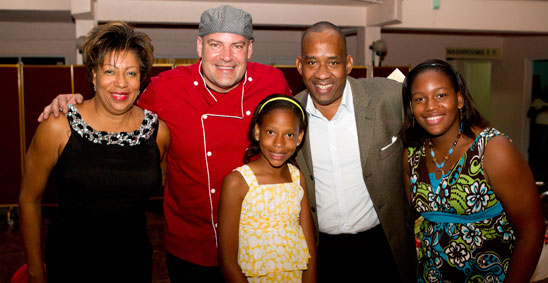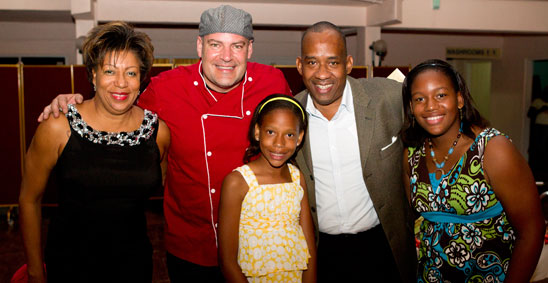 Some of Grenada's top chefs along with Jorg Amsler, Master Pastry Chef, Chocolatier, and Food Network Challenge Champion were the highlight of this year's Fund for the Orphans & Elderly Gala, held Wednesday, February 29, 2012 at the Trade Centre in Grand Anse. The event, the annual and main fundraiser of the Fund, was held under the patronage of Their Excellencies Sir Carlyle and Lady Glean.
The Fund for the Orphans & Elderly was established in 1991 by Charles R. Modica, Chancellor of St. George's University, at the request of Nelly Golarz, PhD, the former Dean of Women for the University.
This year, the Gala took a on a new format. Themed "Grenada's Best Chefs – A Sweet Signature Collection", the event comprised of a dinner with dessert competition featuring esteemed chefs from four of Grenada's restaurants: The Rex Grenadian, True Blue Bay Resort, University Club and the Victory Bar & Restaurant. Each contestant prepared a signature dessert, utilizing at least one compulsory ingredient which was presented to a three member judging panel. The judges, Jorg Amsler, Mark Banthorpe and Stanley Minors, were high in praise for the quality and creativity of the desserts presented.
Among those present to enjoy the sumptuous dinner and the artful presentation by the chefs were Dr. Nelly Golarz, several members of the Grenadian corporate community, private citizens and the University's faculty, staff, alumni and friends.
The event was well attended by over 300 people, who marveled at the culinary talents and skills of some of Grenada's finest pastry chefs. The dessert competition held during the dinner was the highlight of the evening.  The Gala is a fundraiser and its success is dependent on ticket sales and donations. Dr. Modica, Chancellor of St. Georges along with the Fund Chairperson, Sr. Nelson Francis, thanked all patrons, participants and corporate entities for their support. "You have made the fund possible," said Sr. Francis. "Through your support of the Gala, you have contributed to the ongoing support of the institutions that care for children and the elderly in Grenada."
In the 21 years since the Fund was established it has raised more than EC$1.8 million. All proceeds raised by the Fund directly benefit the homes and institutions it supports as all administrative costs associated with fundraising are underwritten by St. George's University.
At present, the Fund supports 15 institutions, including one in Carriacou. The institutions are: Grand Anse Home for the Elderly, Queen Elizabeth Home, Top Hill Home, The Cadrona Home, St. Martin's Home, Missions of Charity, Dorothy Hopkin Center, Hills View Home, Bel Air Home, Programme for Adolescent Mothers, Charles Memorial Home, Hilarion Home, Father Mallighan's Home for Boys, Richmond Hill Home and the Emergency Shelter for Teenage Girls.
https://www.sgu.edu/wp-content/uploads/2016/10/news-Fund-Orphans-Elderly.jpg
283
548
jrichardsink
https://www.sgu.edu/wp-content/uploads/2020/02/sgu-logo-grenada.svg
jrichardsink
2012-05-04 18:58:11
2017-01-18 00:57:22
Fund for the Orphans & Elderly Annual Gala - A Sweet Success