With an eye toward the future, St. George's University welcomed the second cohort of future Caribbean conservationists at the Conservation Leadership in the Caribbean (CLiC) workshop, an intensive 18-month program aimed at assisting 18 young professionals from 13 Caribbean countries in launching, developing, and implementing successful conservation campaigns.
"CLiC is a fellowship program offered free of cost to Caribbean nationals and professionals in the wider Caribbean," said Dr. Leo Douglas, Assistant Professor, New York University and Immediate Past President of BirdsCaribbean. "This much-needed program was designed to help young people who are trying to get established in environmental careers and have a broad passion for the environment but really are lacking in the resources, institutions, and the training to actually advance their careers."
Originally funded by a $125,000 grant from the US Fish and Wildlife Service (USFWS) in 2014, CLiC's collaborating partners include St. George's University (the base of the training program) and the International Fund for Animal Welfare (IFAW), along with the Windward Islands Research and Education Foundation (WINDREF), another important collaborator, administering the program in its second year.
"We've been incredibly fortunate to be able to partner with SGU and use its facilities here because the University offers the ideal setting to meet all of our needs," added Dr. Douglas, CLiC Coordinator. "When CLiC was formed, we wanted to keep it entirely Caribbean. We needed a location that was accessible, and not prohibitively expensive, that we could have our fellows come and be a part of a community of scholars, a place where there would be accommodations but also have access to classrooms and state-of-the-art technology."
This second cohort completed a three-day leadership and project management planning workshop, followed by a 10-day (in-person and virtual) short course on Advanced Conservation Planning based on the Open Standards for the Practice of Conservation. Participants were broken up into five teams, and each team launched a research conservation initiative with the help of an assigned mentor. Over the next two years, through workshops, online and in-person courses, and hands-on project implementation exercises, fellows would be provided with the knowledge and training of best practices in conservation, potential funding mechanisms for their projects and proposal writing and networking skills both with their advisors and each other.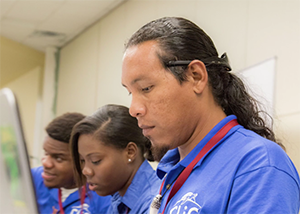 Having worked for four years as a conservation officer at a local nature center in Trinidad, Kimberly Chu Foon, a PhD candidate at the University of Prince Edward Island was eager to join CLiC's training and become a better conservationist. Along with her teammates from Team Macaw, Ms. Chu Foon's conservation campaign focuses on Trinidad's reintroduced population of blue and gold macaws, which had been extirpated in the wild since the 1960s.
"Our project is centered on looking at the main reasons why pet owners acquire these birds, where the birds are coming from illegally, and trying to find ways to develop a behavior change program to make sure that people are no longer hunting or poaching these birds from the wild," said Ms. Chu Foon. "As a PhD student, a lot of the methods I've been using to conduct my research are some of the same ones I've been using on this project. So, this has really been helping me to build my skills in such areas as qualitative data analysis and data collection and in giving me the experience that I need to further my research career."
Continuing to expand upon a two-year pilot leadership-training program, Caribbean Emerging Wildlife Conservation (CEWCL), which mimicked the Emerging Wildlife Conservation Leaders (EWCL) training program, a successful venture in the US for more than a decade, CLiC's current cohort of fellows will also be the first to achieve certification.
"We're very excited about this. Thanks to SGU, these fellows will be receiving graduate-level, degree-type certification which is a huge deal when trying to find jobs and move on to the next level," Dr. Douglas said. "We're also offering an increase in funding to our next batch of cohorts because we want them to work with a broader, deeper, more extensive network of partners than ever before especially in terms of working on projects that have on-the-ground benefits such as recycling, endangered species, and climate change projects, so that they can access people with specific types of training.
"CLiC's future is bright, as it continues to provide its fellows with greater resources that they can use to advance themselves and their careers, all while benefitting their local environments and habitats in the Caribbean."
https://www.sgu.edu/wp-content/uploads/2018/06/Screen-Shot-2018-06-08-at-9.59.00-AM.png
500
845
bpmauser
https://www.sgu.edu/wp-content/uploads/2020/02/sgu-logo-grenada.svg
bpmauser
2018-06-08 14:44:42
2018-06-08 17:25:34
Caribbean Professionals Mentor Future Conservation Leaders at St. George's University