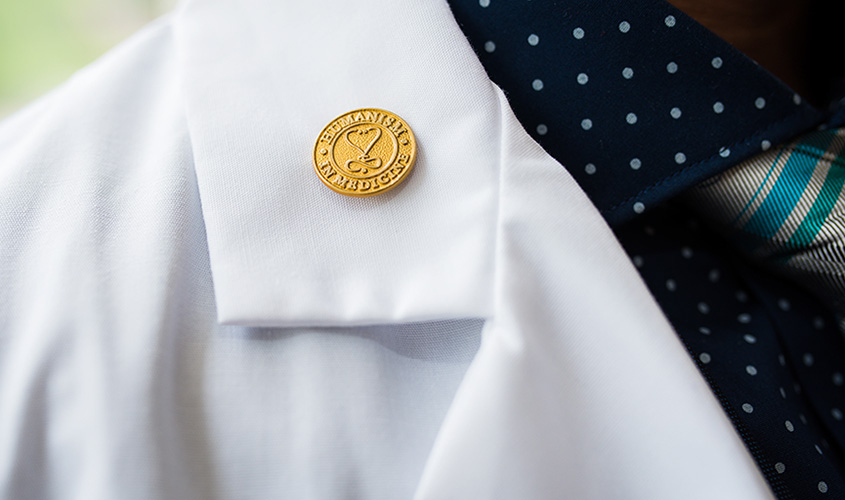 Students from around the world took their first steps into their medical education at the traditional White Coat Ceremony, inaugurating the 12th year of a partnership between St. George's University and Northumbria University in Newcastle, England.
Seventy-five students from countries including Canada, the United States, United Kingdom, Hong Kong, Thailand, and Botswana were formally inducted into the St. George's University School of Medicine/Northumbria University Joint MD Program. Since its establishment in 2007, the SGU/NU program has welcomed more than 1,700 students to the medical education track.
Path of Lifelong Learning
Emceeing the ceremonies was Leah Ratner, MD '14, an alumna of the joint program who is now a pediatric global health fellow at Boston Children's Hospital in Massachusetts. Recounting stories from her time practicing in the US and attending conferences in Mexico, Dr. Ratner advised new students to adopt a multidimensional approach to medicine that goes "beyond the exam room" and encompasses the social determinants of health. She urged them to "empathize with others" and the personal and structural problems that their patients may face, and to take personal responsibility for working toward equity and justice in healthcare and medical institutions.
Dr. Matthew Wynia, director of the Center for Bioethics and Humanities at the University of Colorado, and a former visiting professor at SGU, delivered the keynote address. He encouraged the students embarking on a "path of lifelong learning" to think of medicine as a series of complex adaptive systems, where knowledge of individual parts is not the same as an understanding of the whole, and outcomes will depend upon doctors' abilities to constantly address these evolving challenges.
"We are creating our professional culture all the time, in every ordinary decision we make," he told students, echoing Dr. Ratner's advice to address the "hard questions" about doctors' social responsibilities.
Special Tribute
To open the day's proceedings, Professor Jon Reast, pro-vice chancellor at Northumbria University, paid special tribute to Baroness Howells of St. Davids, a former trustee of the St. George's University UK Trust and a firm fixture of White Coat Ceremonies in years past.
Baroness Howells, who stepped down from the House of Lords earlier this year, is the only Grenadian to join the peerage and is a former president of the Windward Islands Research and Education Foundation (WINDREF), a Grenada-based research institute that collaborates with SGU.
The SGU/Northumbria joint program, formerly the Keith B. Taylor Global Scholars Program, was founded in 2007 to create a pathway for highly qualified international students to pursue a world-class medical education by beginning their physician training with SGU at Northumbria, before going to Grenada to continue their studies. Earlier this year, the universities announced that the joint program would be expanded to allow students to complete up to two years of their pre-clinical medical education in the UK.
https://www.sgu.edu/wp-content/uploads/2019/09/SGU-NU-WCC-845-x-500.jpg
500
845
lchartor
https://www.sgu.edu/wp-content/uploads/2020/02/sgu-logo-grenada.svg
lchartor
2019-09-01 19:20:14
2021-02-25 21:15:57
Global Medical Students Welcomed Onto Path of "Lifelong Learning" at White Coat Ceremony