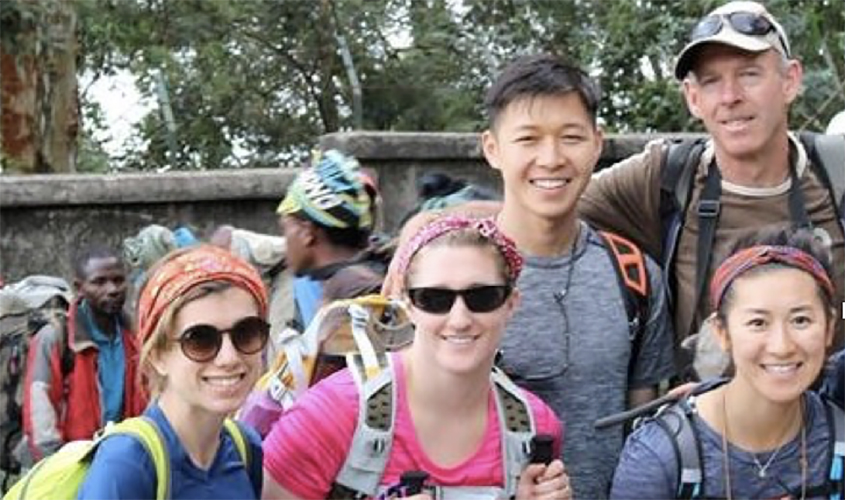 Three St. George's University medical students, all alumni of the Keith B. Taylor Global Scholars Program (KBTGSP), recently took part in a research pilot project in Tanzania to test the effects of altitude on people living in different global regions.
Dr. Clive Kelly led the research and invited the alumni of the Northumbria-based program to join him in Tanzania after having taught them during their first year clinical selections in Newcastle. The KBTGSP provides students of St. George's University on the Caribbean island of Grenada, to complete their first year of basic sciences at Northumbria as part of their medical degree.
Dr. Kelly, a Physician from the Queen Elizabeth Hospital in Gateshead and Senior Lecturer at Newcastle University, developed an interest in researching cases of arthritis in East Africa after traveling in the region last year. He has been involved in a pilot study to assess the range and extent of locomotor disease in the hopes it will give insight into regional variations in rheumatic conditions and treatments.
The students—Zoe McKinnell, Gillian Richmond, and Renee Wong—are now in the fourth year of their medical degrees at SGU. In addition to the research pilot project, they took on the additional challenge of spending a week climbing Mount Kilimanjaro, where they participated in a comparative study with Dr. Kelly on the effect of physiological adaptations to altitude in climbers from different parts of the world.
During their trip, the students also assisted Dr. Kelly's teaching programme for junior medical students at a Tanzanian hospital and joined classes with more senior students to expand their knowledge from the perspective of different healthcare systems.
"It was great to have Zoe, Gillian, and Renee involved in this international research project, both for their own development and for the contribution they made in the field," said Dr. Kelly. "From a teaching point of view, it was invaluable to have them there and their input was crucial. We were teaching a class of 40 students and they helped by taking smaller groups on to wards with me to talk to and examine patients and test techniques. I wouldn't have been able to teach such large classes without their assistance."
"The Keith B. Taylor Global Scholars Program was a great experience and the small group of 70 students meant we had a real community and support system," said Ms. McKinnell. "It also gave me the opportunity to go to Tanzania, which turned out to be a big eye-opener. I was pleasantly surprised to be able to teach as well as learn while I was there."
SGU student Gillian Richmond applied for the KBTGSP because she was interested in studying healthcare systems around the world.
"It was really interesting to go into a teaching hospital as an outsider and learn about healthcare in an international context," Ms. Richmond said. "Joining SGU's program at Northumbria University was the best decision I've made. I've made lifelong friends and my experience in Tanzania will be a helpful bridge to my teaching responsibilities as a resident next year."
"I am grateful to Dr Kelly who helped us organize a teaching elective in Tanzania, where I was able to learn more than I could teach," said Ms. Wong. "I was humbled every day by my patients, students, and colleagues."
Building on this initial success, Dr. Kelly hopes to create an annual program for future students as the research project develops.
https://www.sgu.edu/wp-content/uploads/2018/05/Tanzania-copy.jpg
500
845
bpmauser
https://www.sgu.edu/wp-content/uploads/2020/02/sgu-logo-grenada.svg
bpmauser
2018-05-04 19:50:56
2018-05-04 19:50:56
Global Scholars Study Rheumatic Effects of Living at Altitude in Tanzania