On March 8th, a group of Gold Humanism Honor Society (GHHS) medical students served as mentors to 25 sixth grade students from the Calliste Government School in St. George's.  As a community-service minded organization, 11 GHHS students incorporated the concept of Big Brother/Big Sister in bringing Gold Exploration Day to a local school.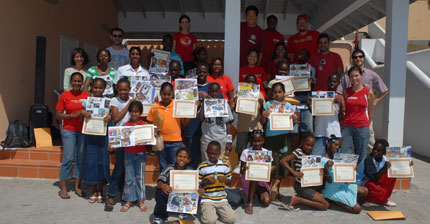 Black Sand Beach served as the backdrop for Gold Exploration Day, which was divided into six sessions, each designed to enhance the education of the participating students.  Three sessions were science based, incorporating hands-on activities which captivated the students' attention and opened their minds to many future possibilities.  Shivana Naidoo, the core leader of the project, was thrilled with its success.  "One of the most powerful moments was watching the children listen to their own heartbeat," she said.  With a model heart from the anatomy lab on display, the young students were engaged, as they visualized the everyday functions of their heart.  Related sessions focused on diabetes, using a full-size drawing of a person to demonstrate the effects of the disease.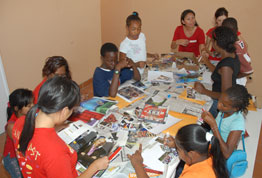 The other three sessions incorporated leadership skills and the importance of team building.  Groups were evenly divided with two GHHS students working with a group of six sixth graders as they rotated from one session to another.  The intimacy of the group size was critical to the impact and overall success of the event.  Business Ethics professor Mr. Anthony Andall served as a major inspiration to the students, as he drew an important comparison to his years growing up in Grenada, his aspirations and his accomplishments.
GHHS students are a peer-selected group who demonstrate humanistic characteristics during their time in medical school, including positive mentoring skills, community service, compassion, sensitivity, collaboration and observance of professional ethics. Gold Exploration Day exhibited these individuals' devotion to the community and the underprivileged, representing the University's commitment to humanism in medicine.
The GHHS was established in 2002 by the Arnold P. Gold Foundation to foster and acknowledge humanism among medical students. The GHHS has been established at 47 US medical schools and three international medical schools since its inception. St. George's University became one of the three in 2005.
Published on 4/3/08
https://www.sgu.edu/wp-content/uploads/2016/11/GHHS-Exploration-group.jpg.jpg
224
430
Erin Shaw
https://www.sgu.edu/wp-content/uploads/2020/02/sgu-logo-grenada.svg
Erin Shaw
2008-04-03 02:22:55
2017-01-18 02:31:18
Gold Humanism Honor Society Students Inspire Grenadian Youth