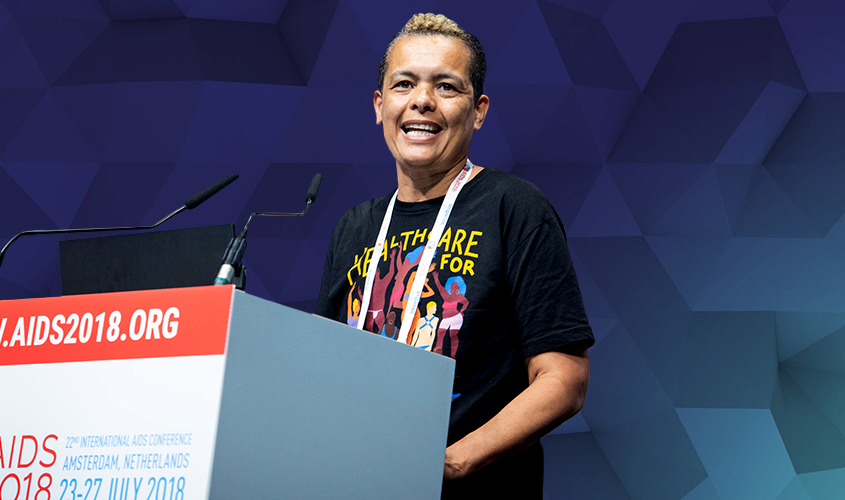 Asa Radix, MD '88, PhD, MPH decided to pursue medicine out of a desire to offer patient-centered healthcare in an often-overlooked community in need.  Dr. Radix's career has focused on LGBTQIA+ (Lesbian, Gay, Bisexual, Transgender, Queer, Intersex, Ally, plus) health and policy and being able to ensure patients receive quality care that is respectful, non-judgmental, and meets the unique needs of members of the LGBTQIA+ community.
Dr. Radix is originally from Grenada and attended SGU on one of the first Grenadian scholarships. They currently serve as senior director of research and education at Callen-Lorde Community Health Center in New York City—which has a mission to serve LGBTQIA+ communities and people with HIV.
In addition to their work at Callen-Lorde, Dr. Radix is a clinical associate professor of medicine at New York University and holds faculty appointments at Columbia University Mailman School of Public Health and Yale University. Over the years, they've developed expertise in transgender health and contributed to several US and international clinical practice guidelines and textbooks.
In honor of pride month, SGU News spoke with Dr. Radix to find out more about their experience providing care to the LGBTQIA+ community and the journey to becoming an expert in this field.
St. George's University: Why did you choose your specialty?
Dr. Radix: I trained in internal medicine and then completed a fellowship in infectious disease. Infectious disease is a broad specialty, but it is a good field for people who like clinical practice as well as research. I like the diversity of the specialty. You can focus on many different areas such as travel medicine, global health, antibiotic stewardship, and emerging infectious diseases as well as a choice of inpatient or outpatient settings.
I mainly focus on HIV and Hepatitis C but still see patients with a wide variety of issues.
SGU: What are some unique medical needs of the LGBTQIA+ community? 
Dr. Radix: Members of the LGBTQIA+ community also have other social identities or groups to which they belong with varying health priorities. There are some issues that are common for all, such as difficulty in finding respectful healthcare providers as well as frequently facing discrimination in health settings. As a result, LGBTQIA+ individuals may underutilize cancer screening interventions, and there are often higher rates of substance abuse, including tobacco use, which is probably related to experiencing social stressors such as interpersonal and structural discrimination. In addition, it is important for medical providers to offer appropriate HIV/STI screenings and HIV prevention interventions (e.g., pre-exposure prophylaxis) to those who are eligible.
SGU: What training can physicians interested in working in LGBTQIA+ healthcare participate in?
Dr. Radix: There isn't a specialty in LGBTQIA+ health. However, there are healthcare environments with a mission to care for LGBTQIA+ individuals, such as health centers like Callen-Lorde or dedicated clinics at other institutions. Many require training in a primary care specialty, such as internal medicine, family medicine, or pediatrics. Usually, these centers provide training in LGBTQIA+ health since most incoming providers have not had adequate experience during their medical school or residency training.
There are also organizations, such as GLMA: Health Professionals Advancing LGBTQ Equality and The LGBT Health Workforce Conference that hold annual meetings for clinicians who are interested in this field.
SGU: When you look back at your professional journey to this point, what stands out to you most as being the most formative experiences?
Dr. Radix: I trained in the early 1990s when HIV was one of the most important and prevalent health issues that we saw. It was also a time when there were few therapeutic options available. Taking care of individuals living with HIV was a major motivation for pursuing a fellowship in infectious disease.
SGU: How did your experience at SGU help prepare you for your career?
Dr. Radix: I was fortunate to do most of my clinical rotations in the United Kingdom and to be exposed to a diverse student body throughout my SGU experience. The love of travel continued, and I completed a diploma in tropical medicine in London during my infectious disease fellowship as well as a Master of Philosophy in epidemiology at Cambridge, later leading to a PhD at Columbia University.
—Sarah Stoss
Related Reading
https://www.sgu.edu/wp-content/uploads/2022/06/Asa-Radix-1.jpg
500
845
sstoss
https://www.sgu.edu/wp-content/uploads/2020/02/sgu-logo-grenada.svg
sstoss
2022-06-21 12:03:40
2022-06-21 12:37:59
A desire to make an impact leads SGU grad to become an expert in LGBTQIA+ healthcare