First to Obtain CPH after CEPH Accreditation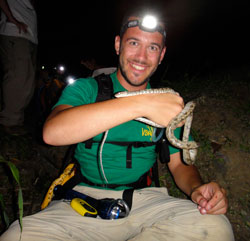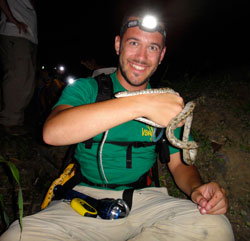 Earlier this year, dual degree students, Alexander Faludi and Alexander Juusela, earned the distinction as the first graduates of St. George's University's Master of Public Health program to obtain US National Board Certification in Public Health. In addition to earning their MPH, Faludi and Juusela are currently completing degrees in veterinary medicine and medicine, respectively. They will join more than 1,500 certified public health professionals in the US and abroad.
The Certification in Public Health (CPH) exam is offered once a year to students who successfully complete their MPH studies at colleges and universities accredited by the Council on Education for Public Health (CEPH). As the US accreditation authority for public health programs, the CEPH granted full accreditation to St. George's Master of Public Health degree program in 2010. The University is only the fifth non-US institution approved by the CEPH to hold this coveted distinction.
"We are incredibly proud of both students. They seized the first opportunity to earn their CPH, further validating their credentials as public health professionals as well as bolstering the University's reputation in the international arena," commented Dr. Omur Cinar Elci, MD, PhD, FRSPH, Chair of the Department of Public Health and Preventive Medicine (DPHPM). While Faludi chose to specialize in Environmental and Occupational Health, Juusela opted for the Health Policy and Administration track. The 42-credit MPH program also offers students the option to specialize in Epidemiology and Veterinary Public Health. Dr. Elci, along with DPHPM faculty, offered his support when the students requested a one-week leave in order to complete the exam in the United States.
The MPH program also offers its students the opportunity to register in a practicum in more than 150 sites all over the world—one of the main reasons Juusela applied to the program at St. George's. He explains, "I really liked the idea of being able to travel while getting my education. Most MPH programs in the US only offer limited hands-on practical experience in the local public health departments." Juusela spent two months with the Pan American Health Organization (PAHO) in the Dominican Republic. Additionally, he volunteered in Haiti for one month post-earthquake, providing free medical services to displaced Haitians.
"My MPH studies have taught me to think outside of the box. Whether you are an MPH, MD, or DVM— the concept of One Health One Medicine applies to all health care professionals. Collaboration between disciplines is important when considering how to manage global health issues. My MPH degree allows me to more readily see the interconnectedness," explains Faludi on how his MPH will further his future career aspirations to work with international health organizations. "With my dual degree I now have the skills to explore the inextricable link between animal and human health, particularly when using animals as an indicator species for human diseases." Currently, Faludi is the lead veterinary student researcher for the snake relocation program in Grenada, which works to relocate snakes instead of killing the already rapidly declining species in the region. "In addition to relocation, we're working to change peoples existing opinions on these creatures. Working in the Grenada rainforest, I have the opportunity to see the impact of my internship and research work."
As students earn their certifications and take their knowledge abroad, Dr. Elci predicts Faludi and Juusela have opened the door for other students in Grenada. "We expect additional MPH graduates to follow in their footsteps and participate in the next CPH examination in February 2012."
About St. George's University's Public Health Program
Administered by the Department of Public Health and Preventive Medicine, the graduate Public Health Program was established in 1999 at St. George's University's School of Medicine and offers graduate degrees in Public Health (MPH) as well as dual-degree opportunities resulting in MD/MPH and DVM/MPH degrees.
https://www.sgu.edu/wp-content/uploads/2016/10/news-alex-faludi.jpg
241
250
VS
https://www.sgu.edu/wp-content/uploads/2020/02/sgu-logo-grenada.svg
VS
2011-05-20 17:42:41
2017-01-18 01:17:12
Graduates of St. George's MPH Program Obtain US National Board Certification in Public Health