The students enrolled in medical school in Grenada – and St. George's University School of Medicine is the only one – have put Grenada in first place for the highest first time pass rate on Step 1 and Step 2/CK for all countries with medical schools in the Caribbean over the past 15 years, according to a study just released in the journal, Academic Medicine.  The authors state that there were 56 Caribbean medical schools during all or part of the period of study.
The study ranked Grenada (SGUSOM)  number one in the Step 1 (testing basic sciences knowledge) with an 84.4% pass rate for first time takers, well above the closest country with private medical schools.  If one deducts Grenada from the study, the average pass rate for all other countries during this 15-year period was 49.9%.
According to Chancellor Charles R. Modica, "This official study, the first of its kind in over 15 years, is an unbiased and accurate representation of the abilities of St. George's University's medical students. The numbers speak for themselves, as SGUSOM students outperformed students from other countries in the region,  exceeding the pass rate of some countries by more than 60%.
While the University has long been aware of the outstanding performance of its culturally diverse student body, Dr. Modica is pleased that such a study recognized their preparedness, and looks forward to the University's continued success in future analysis.
"This impartial study is most welcome – and extremely necessary – for students trying to assess options as they choose a medical school," stated Margaret Lambert, Dean of Enrolment Planning at St. George's University.  "Finally, after many years, there is an objective, impartial study which will help both prospective students and licensing agencies to recognize SGU's continuous academic excellence.    In the only other study published, over 20 years ago, St. George's students outperformed all other major medical schools in the initial pass rate on the ECFMG examination.  The trend of excellence continues."
Produced by the American Association of Medical Colleges, Academic Medicine is dedicated to issues in academic medicine in the United States.  Fully one quarter of all physicians practicing in the US are internationally trained rendering a study such as this invaluable.
We have provided the link to the story, however, please note that there is a login for access to this journal's articles.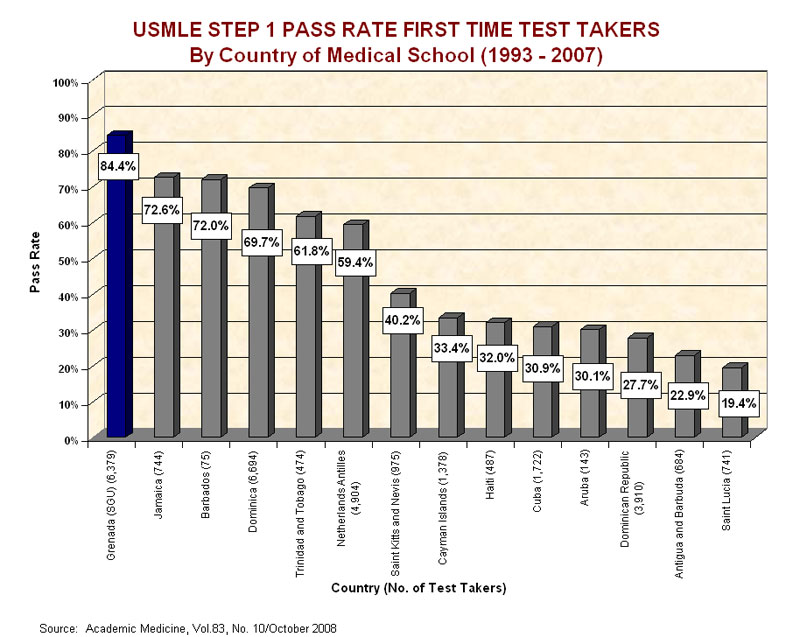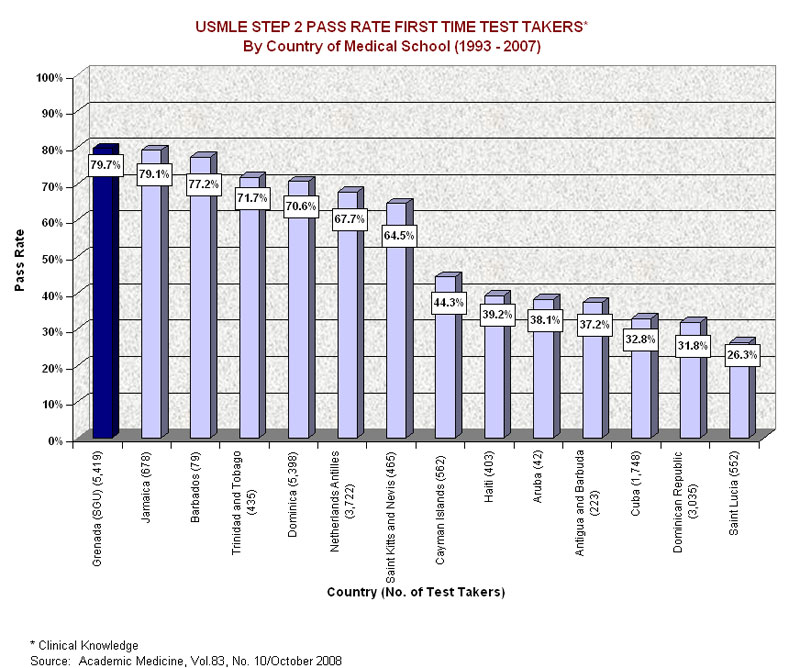 Published on 10/29/08
https://www.sgu.edu/wp-content/uploads/2020/02/sgu-logo-grenada.svg
0
0
Erin Shaw
https://www.sgu.edu/wp-content/uploads/2020/02/sgu-logo-grenada.svg
Erin Shaw
2008-10-29 02:26:28
2017-01-18 02:15:05
Grenada #1 Rank in USMLE Step One and Step Two/CK in Caribbean