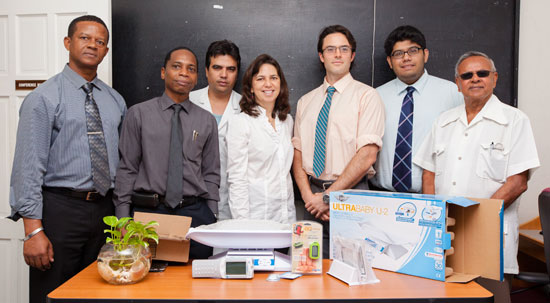 Fast, accurate, reliable. When it comes to patient testing, health care professionals rely on devices with these qualities. That's why in December the Iota Epsilon Alpha (IEA) medical student honor society at St. George's University donated an i-STAT® blood analyzer system valued at $12,000 US to the Grenada General Hospital.
The i-STAT blood analyzer is a portable diagnostic tool that provides testing at the patient bedside offering insight into patient electrolytes, blood gases, cardiac enzymes, and more. Cardiac enzymes are a key determinant of heart function and an important indicator of a heart attack in process. Tests using the blood analyzer provide results within minutes, often minimizing the need for more invasive, expensive procedures.
The Iota Epsilon Alpha (IEA) medical student honor society of St. George's University dedicates itself not only to promoting academic excellence but to provide for the public health and welfare of the public, particularly the underprivileged.
"The fundamental goal of this donation is to save lives, but more importantly to increase the capabilities of the hospital with the adequate resources," said IEA president Brian Beckord.
Katherine Yearwood, associate professor in the Department of Clinical Skills, and Dr. Joseph Feldman MD '89, SGU alumnae and chairman of the Department of Emergency Medicine at Hackensack Medical Center in New Jersey, also played an integral role by suggesting equipment that would significantly improve the diagnostic capabilities of the General Hospital. Grenada now joins Trinidad and Barbados as the only islands in the Caribbean to have this revolutionary device.
"The iSTAT machine is going to be extremely beneficial to patient care and patient outcome," said Dr. George Mitchell, the hospital's chief medical officer.
Iota Epsilon Alpha has also pledged to fund the cartridges and updates needed throughout the life of the i-STAT blood analyzer, and it donated two pediatric scales for weighing infants, and two pulse oximeters for checking the oxygen saturation of a patient's blood were also donated to the General Hospital. In 2012, IEA raised over $13,000 US, and incoming president and fifth-term student Raza Mushtaq vowed to carry the mantle into 2013 as they continue to make an impact, one life at a time.
IEA was founded at St. George's University in 1992, and includes medical students who have excelled academically, and are willing to participate in various extracurricular activities and international health projects. To make this a reality, IEA holds a number of fundraising events such as the WII Olympics and dodge ball tournaments, with a focus on giving back to the island of Grenada.
https://www.sgu.edu/wp-content/uploads/2016/10/news-iea-donation.jpg
303
550
VS
https://www.sgu.edu/wp-content/uploads/2020/02/sgu-logo-grenada.svg
VS
2013-02-07 13:50:28
2017-01-18 00:36:27
Grenada General Hospital Receives over US $12,000 in Equipment from IEA