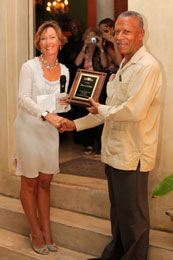 Since its inception in 1984, the Grenada Heart Foundation (GHF) , funded by St. George's University and the Lions Club of St. George's, Grenada, has helped 213 of its nation's children receive critical cardiovascular care abroad. A celebratory evening at the Azzurra Castle on August 22nd recognized the contributions of all involved as well as the recipients of this extraordinary organization.
The event served as an inspiring and reflective platform for the Foundation to thank those who have helped establish them as resource of hope throughout the past 25 years.  During that time, the Foundation has facilitated the provision of life-saving medical assistance to Grenada's most vulnerable children.  The GHF assists the Ministry of Health in providing free health care services to children suffering with congenital or acquired heart disease.  Upon diagnosis and the identification of a host hospital, the GHF makes arrangements for patients and guardians to obtain passports, visas, laboratory and dental clearance, and provides transportation, room and board and follow-up care at no charge.
Jennifer Solomon, Coordinator of the Foundation, attributed the organization's success to the team effort put forth. She referenced the popular local expression: "one han' cyan clap" and explained that this organization reflects a true community partnership.
In recognition of the many generous supporters of the GHF, plaques were presented to the Government of Grenada, Mrs. Rose Kopycinski, Chancellor Charles R. Modica , St. Georges University,  Children's Health Organization Relief and Education Services, Inc. (CHORES) , and the US Government.  Certificates of appreciation were given to the Lions Club, Rotary, WINDREF, Ministry of Health, American Airlines, Republic Bank, Grenada Breweries, Coca Cola, Island Water World, and North South Wines. Collectively, these individuals and organizations have demonstrated unstinting support and commitment to the Foundation over the past two-and-a-half decades.
Statistics indicate that one in every one hundred children will be born with a heart condition. However, heart disease can be greatly reduced by proper nutrition, exercise and education about one's health risks. In order to achieve these objectives, the Foundation works closely with other organizations such as CHORES, which conducts a week-long clinic three times per year providing follow-up care for an average of 150 children.
The Foundation has also forged relationships with the Chain of Hope  and the Dental Association since there is a strong correlation between dental hygiene and cardiovascular care. "Presently, we are working on preparing a leaflet that would continue to inform children and parents alike on the importance of proper dental hygiene," said Jennifer Solomon.  She stressed the need for all to be involved in learning and practicing cardio-vascular care.
Ms. Solomon expressed gratitude to the over 2,500 participants in the Grenada Co-operative Bank  Fun Walk which took place earlier this year to raise awareness of the GHF's  important work. Plans are also underway to have billboards placed throughout Grenada which would continue to educate and encourage Grenadians to take care of their hearts.
The Grenada Heart Foundation (GHF) had its beginnings in 1984 when St. George'sUniversity was approached for assistance in obtaining heart surgery for a young Grenadian child.  The individuals who were involved with these efforts recognized the need for a dynamic program to diagnose and treat children and adults who have serious and potentially correctable congenital and acquired heart problems.  St. George's University (SGU) and the Lions Club of St. George's, Grenada made the commitment to secure funding for treatment as well as long term follow-up care.
Today, the Grenada Heart Foundation is administered by St. George's University and is generously supported by corporate entities, civic and community organizations.  All of its services are supported by donors including the Government of Grenada, SGU, Rotary International, American Airlines, Air Jamaica, Virgin Atlantic, CHORES and the hospitals at which the patients are treated.  GHF patients all attest to the high level of commitment shown by the organization itself and participating hospitals in their care.
https://www.sgu.edu/wp-content/uploads/2016/11/news-PrimeMinisterTillmanThomas.jpg
260
173
jrichardsink
https://www.sgu.edu/wp-content/uploads/2020/02/sgu-logo-grenada.svg
jrichardsink
2009-09-03 16:17:11
2017-01-18 01:49:55
Grenada Heart Foundation Celebrates Silver Anniversary