The Caribbean Veterinary Medical Association Conference (CbVMA) was held for the first time in Grenada from November 8-10, 2006. SGU School of Veterinary Medicine and the Grenada Veterinary Medical Association were excited to host this prestigious event.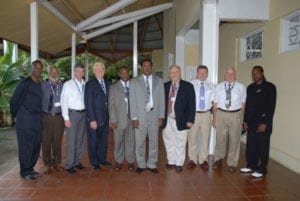 This year's conference, "Veterinary Medicine: What is the Future?" brought together veterinarians and scientist from all parts of the Caribbean, Canada, The United States and The United Kingdom to address issues that affect the Caribbean region. A select group of over 150 professionals, including 50-70 students, had the opportunity to network, share ideas and participate in three consecutive days of outstanding education programs on the shores of the Caribbean Sea. This was also a wonderful opportunity for Grenada to exhibit and promote the exceptional facilities of the SGU campus. According to Dr. Raymond Sis, Dean of the School of Veterinary Medicine, the 24th Biennial CbVMA exceeded all of his expectations.
The event began on Wednesday, November 8th with an impressive opening ceremony that included welcome addresses from Dr. Eugene Rennie, President of Grenada Veterinary Medical Association and Dr. Allen Pensick, Provost of SGU. Introductory remarks were then presented by Dr. Sis. This conference offered local government officials an opportunity to participate as well. The conference was opened by Senator the Honorable Adrian Mitchell, Minister in the Ministry of Agriculture, Lands, Forestry, Public Utilities, Energy and MNIB.
Each day of the conference featured a series of lectures on topics including aquatic and avian veterinary medicine, re-emerging infectious diseases, anesthesiology, dentistry and public health. The invited plenary speakers are renowned experts in veterinary medicine. This year's speakers and their topics included:
Dr. Richard Halliwell, Professor Emeritus, Veterinary Clinical Studies, Royal (Dick) School of Veterinary Studies, Edinburgh, UK: "Whither Veterinary Medicine: Challenges and Opportunities".
Dr. Tom Nemetz, Dentistry Practice, South Athens, Animal Clinic, Athens, Georgia: Overview of Small Animal Dentistry.
Dr. Scott Echols, Director of Avian Medical and Surgical Services at the Westgate Pet and Bird Hospital in Austin, Texas: Collecting Diagnostic Samples in Avian Patients.
Dr. Gerald Johnson, Faculty of Atlantic Veterinary College of the University of Prince Edward Island in Canada: Aquatic Veterinary Medicine: Awash with Opportunities.
Dr. William Novak, Chief Medical Officer of Banfield, The Pet Hospital: Anesthesiology Workshop.
Dr. Howard Evans, Professor Emeritus, Cornell University: Marine Life of Grenada.
Dr. J.P. Dubey, United States Department of Agriculture: The Economic and Public Health Impact of Toxoplasmosis.
Following opening ceremonies, day one continued with the increasingly important subject of animal dentistry followed by a dental wet lab held at the SGU Campus. Hands-on wet labs were planned for conference participants to develop their skills and knowledge in emergent fields of veterinary medicine. Refreshment and lunch breaks were provided each day by several high profile industry sponsors including Hill's Pet Nutrition, Novartis Animal Health, Pfizer Animal Health, Bayer Animal Health, Merial and Philbert Thomas. A welcome reception was held that evening at the SGU Campus which featured cultural performances by local group Tivoli Drummers and the Grenada National Folk Group.
The second day opened with an analysis of the recent epidemics of West Nile Encephalitis, Foot and Mouth Disease, Avian Influenza, Canine Influenza, Classical Swine Fever and Bluetongue. The afternoon session focused specifically on avian medicine and the challenges facing CARICOM countries and the preparation for an outbreak of HPAI (Highly Pathogenic Avian Influenza). An avian medicine wet lab focusing on collecting diagnostic samples in avian patients was offered to participants. Later that afternoon, a feature lecture and workshop introduced the best anesthesia practices for small animals.
The final day's itinerary included several concurrent programs on aquatic veterinary medicine, small animal practice guidelines and management and public health issues. Final remarks from Dr. Rennie, President of Grenada VMA, and a farewell banquet at the Aquarium Restaurant closed the conference.
Dr. Sis acknowledges the dedication of all who helped make the conference a success. "The many benefits that were derived by all who participated were made possible due to the diligence and cooperative team effort of each member of the local arrangements committee," said Dr. Sis.
The committee included the following colleagues from The School of Veterinary Medicine, Grenada Veterinary Medical Association and WINDREF Research Institute:
Dr. Raymond Sis
Dr. Eugene Rennie
Dr. Bowen Louison
Dr. Calum Macpherson
Dr. Ravindra Sharma
Dr. Tara Paterson
Dr. John McKibben
Dr. Claude DeAllie
Dr. Buxton Nyack
Mrs. Meg Conlon
Mrs. Lisa McCartney
Dr. Sis gives special thanks and commendations to Mrs. Lisa McCartney, conference coordinator, who played a major role in the success of the conference. SGU and the Grenada Veterinary Medical Association look forward to hosting another CbVMA Conference in the near future.
Published on 11/21/2006
https://www.sgu.edu/wp-content/uploads/2016/10/Group-Photo-at-the-24th-cbVMA.jpg
289
432
smashm3233
https://www.sgu.edu/wp-content/uploads/2020/02/sgu-logo-grenada.svg
smashm3233
2006-11-21 20:42:23
2017-01-18 03:04:05
Grenada Hosts the 24th Biennial Caribbean Veterinary Medical Association Conference (CbVMA)