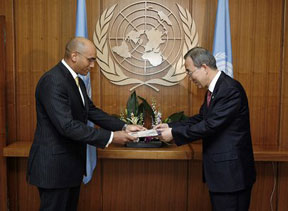 On Grenada's 33rd Anniversary of Independence Grenada's new Ambassador to the United Nations, His Excellency Dr. Angus Friday (left), a graduate of St. George's University School of Medicine, presented his credentials to UN Secretary General, His Excellency Ban Ki-Moon.The February 7 ceremony took place at UN headquarters in New York and was attended by Marguerite St. John, counselor at the Grenada Mission. Also presenting credentials on that day were the new ambassadors for Slovenia and Timor-Leste.
In accepting Dr. Friday's credentials, the Secretary General noted the special significance of the day for Grenada and extended his congratulations to its government and people.  Commenting on the occasion, Ambassador Friday said, "It was a special honor to have this ceremony on Grenada's Independence Day.  I thank the Government of Grenada for its confidence in me. With my team here at the UN, I look forward to contributing in areas that affect developing states".  He also intends to help Grenada's development by generating interest in Grenada's investment opportunities.
Dr. Angus Friday is the son of the late Dr. Stan Friday OBE, who served as the Associate Dean of Clinical Studies at St. George's University and also as Grenada's Chief Medical Officer.  Angus graduated from St. George's University at a ceremony held at the United Nations in the Summer of 1991.  Recalling his time at SGU he says, "I fondly remember Dr. Nelly Golarz telling me that I can achieve anything that I want; that was very inspirational.  Dr. Rao and Dr. Pensick were also supportive."  After graduation he served as a junior doctor at the Grenada General Hospital before traveling to Scotland to complete an MBA degree.  He remained in London for ten years thereafter as an entrepreneur in medical information technology developing two software companies, one with Johnson and Johnson and the other with venture capital.  He returned to Grenada in 2004 to support the family business (Glenelg Spring Water) and to help with Grenada's economic development.  He served as deputy chairman on the Grenada Board of Tourism and as director of Petro Caribe and he helped develop Grenada's National Strategic Plan and its National Export Strategy.
He commented, "St. George's University has contributed significantly to Grenada's economic development and has been an outstanding example of successful entrepreneurship on the part of Chancellor Modica and his team.  Grenada needs to build on this with more international educational services, offshore health services, health tourism and biopharmaceuticals, starting with herbal medicines."   The University, he hopes, may one day play an important role in incubating such projects.  Dr. Friday welcomes any interest from alumni in developing projects in Grenada.
Grenada's stated purpose at the United Nations is "to promote and pursue Grenada's interest within the community of nations, and to enhance Grenada's image and its development."  Ambassador Friday intends to contribute to this mission and support the efforts of Grenada's Prime Minister Dr. Keith Mitchell, especially regarding the environment.  Dr. Friday noted, "Vulnerable small island states such as Grenada have an important role to play on issues related to global warming".  He hopes that there may be scope to liaise with St. George's University on related topics (such as coral reef bleaching) which are important for the 43 small island states represented at the UN.
Dr. Friday also said that he intends to seek partners for the development of Grenada.  He noted, "We would like to see Grenada as a natural choice in forming partnerships for development with our friends in the international community.  With its stable political climate and low crime rate, Grenada is moving forward at a steady and sustainable pace."  He also hopes to interest Grenadians living in New York to invest in their homeland.  "Given some of the major developments coming on stream, the time is opportune for Grenadians and others to invest in Grenada and to share in the benefits of the island's economic growth".
He concluded, noting:  "At the Ministry of Foreign Affairs and here at the Mission in New York, I'm delighted to be supported by a very good team of committed individuals who have already displayed a high degree of professionalism.  I am also grateful to have the support of New York Consul General the honourable Allen McGuire.  Working together, I am confident that we should see a number of positive results for Grenada in the months ahead."
Sourced by
Trevor P. Noël
with permission from the Grenada UN Mission
Published 2/23/2007
https://www.sgu.edu/wp-content/uploads/2016/10/Dr-Angus-Friday-and-Ban-Ki-Moon.jpg
211
288
smashm3233
https://www.sgu.edu/wp-content/uploads/2020/02/sgu-logo-grenada.svg
smashm3233
2007-02-23 13:00:10
2017-01-18 02:58:56
Grenada's New Ambassador Presents Credentials At the United Nations