Grenada's devastated nutmeg industry will be helped by the appointment of Dr. Matthias Lorenz as the Director of the SPICE Research Program of the Windward Island Research and Education Foundation (WINDREF). The inauguration of WINDREF's SPICE Research Program was a direct outcome of a workshop entitled: "The Development of the Grenada Nutmeg Industry: A new perspective" hosted by WINDREF at St. George's University on Wednesday November 8th 2004.
After the torrential rain and gale force winds of Hurricane Ivan subsided, the storm's impact on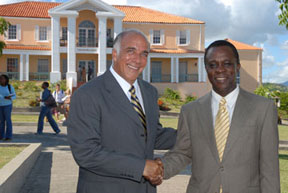 the rainforest, nutmeg crops and the national economic base was immediately apparent. Once urgent daily needs had been met, Grenadians turned their attention to long term economic recovery. With nutmeg a major export, a particularly strong focus has been placed on the spice industry.
The SPICE Research Program, under Dr. Lorenz's direction, will engage in active research to support the revival of this industry. "Due to its pre-eminence in the country," said Dr. Calum Mapcherson, Director of WINDREF, "we are working closely to collaborate with all participants in helping with the recovery of the Spice Industry of Grenada."
Dr. Lorenz, as coordinator of various development projects in Latin American countries, brings global research perspectives on spice, medicinal and cosmetic plant species to the Research Institute. His experience ranges from the identification of species with promising economic value, domestication of wild species, chemical analysis and extraction. Before founding his own company, he was engaged in the development of phyto-pharmaceuticals for hepatitis B and C and Parkinson disease.
No stranger to Grenada, Dr. Lorenz has carried out extensive research on nutmegs in collaboration with the Grenada Cooperative Nutmeg Association (GCNA) over the last few years. This genus-specific experience, coupled with the ability to assess the viability of diversifying the use of nutmeg by examining the potentialities of its by-products make Dr. Lorenz an invaluable member of the research team.
The workshop was attended by representatives from the Ministry of Agriculture, the Food and Agricultural Organization of the United Nations (FAO), the Grenada Cooperative Nutmeg Association (GCNA), the University of the West Indies (UWI), St. George's University and local farmers.
Published on 01/11/2005
https://www.sgu.edu/wp-content/uploads/2016/10/Charles-Modica-Dr-Lorenz-Shaking-Hands.jpg
193
288
smashm3233
https://www.sgu.edu/wp-content/uploads/2020/02/sgu-logo-grenada.svg
smashm3233
2005-01-11 15:08:05
2017-01-18 03:23:47
Grenada's Nutmeg Industry Gets Boost from Windward Island Research and Education Foundation (WINDREF) - SPICE Research Program