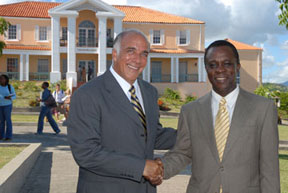 Grenada's Prime Minister applauds the University's innovative and resourceful efforts in meeting the growing educational needs of Grenadians and the wider Caribbean region. Dr. the Right Honorable Keith C. Mitchell expressed this sentiment on an official visit to St. George's University's True Blue campus on Thursday, 21 September 2006.
The Prime Minister and a delegation of Government Ministers were led on a tour of the campus by the Chancellor and University representatives. Among the stops were the two new construction sites for lecture halls. When asked about his impression of the University, Dr. Mitchell was clearly pleased by the advances he witnessed first hand, and continues to support. "We have always been very impressed by the work done by St. George's University, in particular as it relates to the training of our medical professionals. Of course, as a country we have benefited enormously from this." The University is one of the largest employers on the island and the influx of students from scores of countries into the medical school pumps income into the community.
The Prime Minister gave special praise and support for the increased enrollment and development in the undergraduate courses. "I think the increase in the University particularly in the undergraduate program is something that we must be very proud of. I've always felt very strongly that in our individual countries there are enough human resources to be able to train and develop all the educational needs of the country… so the advent of the initiative of St. George's University with so many excellent programs is a major plus for the country."
On the topic of access to higher education, the Prime Minister waxed eloquent, "I think what's good is that the St. George's University initiative in providing scholarships and training opportunities for people who express need and interest in developing themselves must be seen as a noble effort. We'll continue to support that initiative."
In the press conference which followed the tour, Chancellor Modica reiterated the University's commitment to increasing access to quality tertiary education in Grenada, "We are working now to increase the numbers of scholarships, full scholarships as well as partial scholarships so that any Grenadian who is qualified and really desires to have a higher education can find a place here at home."
Among the Government Ministers present were the Hon. Clarice Modeste-Curwen (Minister of Works) and Hon. Ann-David Antoine (Minister of Health), both members of the Government's University Monitoring Committee. Both Ministers thanked the University for its excellent corporate spirit. The visit ended with a renewed charge to further expand the collaboration between the University and the Government of Grenada for the mutual benefit of the Grenadian and University communities.
Published on 09/27/2006
https://www.sgu.edu/wp-content/uploads/2020/02/sgu-logo-grenada.svg
0
0
smashm3233
https://www.sgu.edu/wp-content/uploads/2020/02/sgu-logo-grenada.svg
smashm3233
2006-09-27 20:34:50
2017-01-18 03:05:15
Grenada's Prime Minister visits University Praising Commitment to Grenadian Education