St. George's University held a memorial ceremony on its True Blue Campus for the University's first-ever faculty member, Dr. David Brown, Chair of the Department of Behavioral Sciences and the Associate Dean of Clinical Studies for the United States who had recently passed away in Stuart, Florida.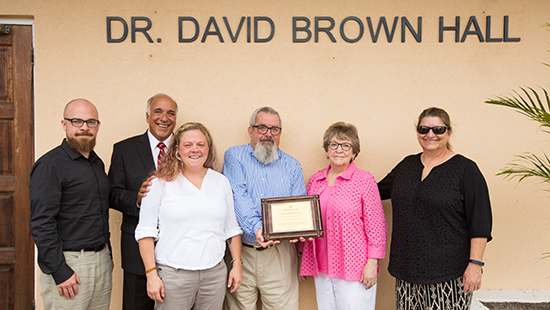 As a tribute to the memory of Dr. Brown, who joined the School of Medicine in 1977, the University's Alumni Hall was renamed Dr. David Brown Hall. The building was one of the first to be constructed on True Blue's upper campus, as part of a 20-year building expansion campaign, culminating in over 65 buildings to create an international symbol of architectural and academic excellence.
Dr. Brown's family was joined at the ceremony by Grenada's Governor General, Dame Cecile La Grenade, St. George's University Chancellor Charles R. Modica, representatives from the performing arts community, as well as retired and current SGU faculty and staff.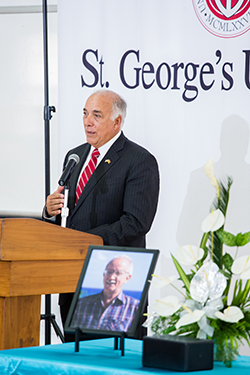 "Dave already had a doctorate to his name and was a sought-after professor before he decided to put his plans to sail across the world on hold and instead accept a post with a newly formed medical school," said Dr. Modica, as he shared heartfelt remarks about Dr. Brown's tenure at SGU. "He knew very little about Grenada when he first embarked on this journey, and now over 35 years later, he was one of its most cherished members. We are grateful for his years of service at St. George's."
Originally from Salt Lake City, Utah, at age 16 Dr. Brown entered the University of Utah as one of the first group of Ford Foundation scholars and graduated with a Bachelor of Science in mathematics, followed by a BS in psychology a year later. While attending Princeton University on a National Science Foundation scholarship, he graduated in 1964 with a Doctor of Philosophy in mathematics and psychology.
After receiving his doctorate, Dr. Brown taught psychology at Columbia University, neurophysiology and statistics at Queens College of the City University of New York, and conducted neuroscience research at Albert Einstein College of Medicine and the New York State Psychiatric Institute. It wasn't until moving to Grenada and teaching in the SOM program that Dr. Brown lastly added the MD to his PhD, completing the Doctor of Medicine program at SGU.
Dr. Brown is survived by brothers, Lee Brown and Carl Brown, and sister, Gayle Brown-Campbell, along with nieces and nephews. His 38-year impact, as a teacher, mentor, colleague, and patron of the arts, will continue to be felt at SGU long after his passing.
https://www.sgu.edu/wp-content/uploads/2016/10/dr-brown.jpg
310
550
VS
https://www.sgu.edu/wp-content/uploads/2020/02/sgu-logo-grenada.svg
VS
2015-11-06 18:53:18
2017-01-17 23:14:11
Historic Campus Building Renamed in Honor of University's First Faculty Member