November 23, 2004 Update
(Updates from the October 29 report are underlined)
Over four hundred Grenadian families have been targeted to benefit from the WINDREF/SGU Relief Fund, which was created following the devastation of
Grenada by Hurricane Ivan. The Fund, a collaborative effort between St. George's University and Windward Islands Research and Education Foundation has received almost a quarter of a million dollars to date which will aid in the rebuilding process in Grenada. Many have sent much needed goods – clothing, medicines, batteries, etc. – to help with the immediate post-storm quality of life concerns.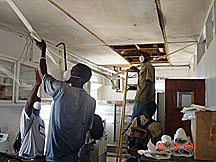 The donations from SGU alumni, parents, current students, foundations and
institutions and friends of SGU and WINDREF around the world have made
and are continuing to make a visible difference in the lives of the families that have been targeted for assistance. Our heartfelt thanks go out to everyone who has contributed so far.
The Relief Fund is providing assistance in a number of areas.
Rebuilding Our Homes
Three University teams have visited and documented the damage in more than
two hundred community homes. Roofing and other essential material has been sourced to assist in the repair of many of those homes. Some building materials have already been purchased through the local hardware stores and also directly from Miami, as the latter are free of duty. If funding permits, over 200 families will be helped with re-roofing their houses in the coming months. The Relief Fund began with the homes and families most desperate for repairs. The other group targeted for early assistance are homes in which essential personnel such as plumbers, electricians and security personnel live.
Twenty percent of the initial target group have already been presented with vouchers to collect building materials from a Grenadian hardware store. The materials include galvanized roofing material, ply wood and rafters The other eighty percent are expected to receive roofing material over the next two weeks.
Our Hospital Laboratory
The laboratory at the hospital was badly damaged, preventing essential
diagnostic services to the people of Grenada. At the request of the
Minister of Health, the Hon Ann David Antoine, the laboratory has been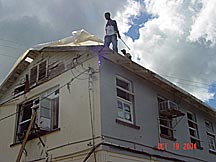 re-roofed, and new ceiling boards and windows have been installed. We also installed an air-conditioner for the proper functioning of the large refrigerators and equipment.
Our Daily Lives
Over the last month and a half, teams of SGU staffers have been going into
the community to assist families in making their homes habitable again – helping with the fitting of tarpaulins and, rebuilding damaged internal and external structures, and fixing plumbing and electrical problems. On October 14, 2004 the Fund shipped 5,127 pounds of goods to Grenada. The shipment contained canned food, clothing for men, women, and children, blankets, towels, medical relief supplies, toiletries and bottled water. These items are being packaged for distribution to a community that the Fund is adopting.
Distributions of food and water
Supplies of canned goods, sugar, rice, flour and bottled water have been
parceled out and distributed to about three hundred families.
SGU DOCS for Grenada
A number of our alumni have spent time in the Grenada Hospital and helped with the island's medical emergencies under the direction of the hospital's Medical Director, Dr. Winston Mitchell. Their contributions have been greatly appreciated by everyone. Over the next few weeks more SGU graduate physicians are expected, coming from as far as California. These graduates feel very strongly that they need to give back something to the nation and the people who helped them on their way in life. The outpourings of offers of medical assistance were almost overwhelming.
Veterinary Student Fund
In response to many requests for a fund to help needy, displace veterinary students, WINDREF set up a scholarship fund to help these students. Monies earmarked for this fund have reached over US $25,000.00 and will be distributed by application review of the neediest veterinary students.
Related Relief Efforts
Clothing and Linens
The NAVI (turning Ivan around) Clothing Store served in excess of two hundred families from Wednesday, 20th October to Tuesday, 16th November.Boxes and bags full of clothing were donated and shipped by the staff of University Support Services, LLC , to their co-workers in Grenada. This clothing was displayed in a "store" on campus, to which individuals were invited to browse and select items from the Ladies & Linen, Shoe, Men's and Children's and Teen's departments. The only currency called for is an SGU ID. SGU staff, families and students can shop for clothes, shoes and linen for their families. This program has been extended to SGU students.
In addition to our relief own efforts we are collaborating with other
foundations, such as the Bartholomew J. Lawson Foundation for Children. There are many more relief efforts on the island. We are offering our help to any serious relief effort; we can help plan and implement an efficient and effective program on the ground in Grenada. We encourage all those who wish to work in Grenada, or help in some way, to contact us and we will be delighted to help if we are able. There is much to do.
How to Contribute to the Fund
Save
Save
https://www.sgu.edu/wp-content/uploads/2020/02/sgu-logo-grenada.svg
0
0
smashm3233
https://www.sgu.edu/wp-content/uploads/2020/02/sgu-logo-grenada.svg
smashm3233
2004-11-23 13:38:42
2017-01-18 03:25:20
Hundreds Benefit from St. George's University / Windward Island Research and Education Foundation (WINDREF) Relief for Grenada Fund