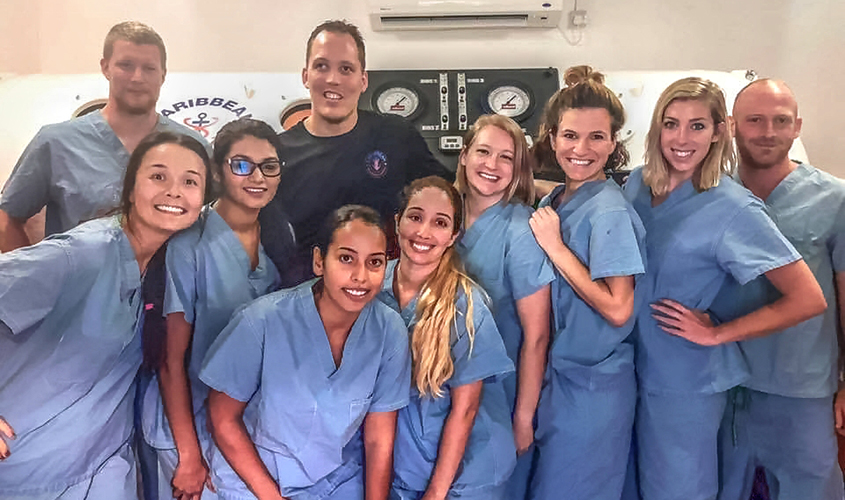 Each May and December, immediately following final examinations, first- and second-year students at St. George's University School of Medicine can participate in a pair of Grenada-based selectives in hyperbaric medicine. In addition to intense study of the theoretical underpinnings of hyperbaric therapeutics, students gain practical experience, with a focus on chronic wounds associated with diabetes.
Late in 2018, however, the participants faced an even more dramatic challenge.
During a routine training session for the hyperbaric students at St. Augustine's Medical Services (SAMS), a Grenadian fisherman showed hemiparalysis and urinary retention. Confronted with decompression sickness-related dysfunction of the brain and spinal cord, the students confidently and professionally rose to the occasion. Over approximately seven hours of supervised effort, they successfully deployed their fresh knowledge and skills, sparing their patient from a lifetime of profound disability.
When completed in succession, the selectives constitute a course that is approved by the American College of Hyperbaric Medicine (ACHM) for progression toward the professional credential of Certified Hyperbaric Technician (CHT).
"The students did a fantastic job. Enabling achievement is part of what the course was designed to do. So, to see this objective met is extremely gratifying," said Dr. Duncan Kirkby, the course's director and professor of neuroscience at SGU. "The students expressed genuine concern for the well-being of the patient. They were respectful, professional and highly motivated to achieve the best possible outcome."
Dr. Kirkby worked with Lutz "Joe" Amechi, MD '93, the medical director at SAMS, to bring hyperbaric medicine to Grenada in 2017. Previously, the nearest chamber to treat diving-related injuries resided in Barbados. The installation of the chamber at SAMS facilitated the development of the selectives, which supplement the preclinical education that medical students receive at SGU.
"There are two major expectations of participants in the selectives," Dr. Kirkby said. "First, they rapidly develop a fledgling body of team-based practical experience that is steeped in the care of Grenadians. Second, because hyperbaric technologies are applicable to a broad and growing array of clinical conditions and disciplines, participants are expected to gain an experiential advantage in the pursuit of residencies."
Dr. Tyler Sexton, who studied under Dr. Kirkby, supplied Grenada's hyperbaric chamber and is the primary instructor for the selectives. He is also a visiting professor at SGU and the CEO and medical director of Caribbean Hyperbaric Medicine.
"There are over a dozen varied indications for hyperbaric oxygen therapy. Applicable disciplines include but are not limited to emergency medicine, reconstructive surgery, internal medicine, aerospace medicine, and trauma surgery," Dr. Sexton said. "It has been my honor to join Drs. Amechi and Kirkby in bringing hyperbaric care to Grenada and promoting the professional, scholarly and personal development of the students of SGU."
https://www.sgu.edu/wp-content/uploads/2019/02/Hyperbaric-Rescue-845-x-500.jpg
500
845
bpmauser
https://www.sgu.edu/wp-content/uploads/2020/02/sgu-logo-grenada.svg
bpmauser
2019-02-07 22:04:29
2021-02-25 21:15:50
Hyperbaric Medicine Selective Students Come to the Rescue of Ill Grenadian Fisherman