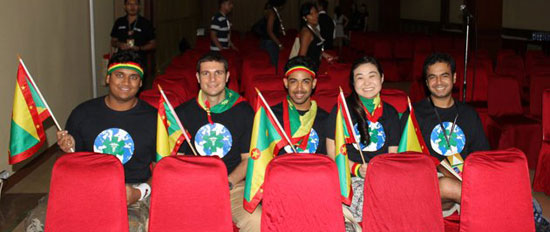 Members of the Grenada chapter of the International Federation of Medical Students Association (IFMSA) recently attended the 60th IFMSA General Assembly (GA) March Meeting in Jakarta, Indonesia where the week-long conference focused on health equity and disparity. Through lectures, panel discussions, field work, and committee sessions, delegates were encouraged to promote health equity on the national and international levels by engaging with national health care systems within developed, developing, and poor countries.
Students from more than 55 countries were in attendance and the delegation from Grenada reflected the diversity found at St. George's. Students represented Asian, Indian, European, and Caribbean ethnicities as well as the nations of the United States, United Kingdom, and Trinidad and Tobago. "Regardless of our citizenship, we were eager to introduce the other delegations to Grenada—the country where we receive our education and that has become our second home," recounts Ayan Sanyal, Secretary-General of IFMSA-Grenada. "There was rarely a moment when our delegation was not proudly wearing bandanas or handkerchiefs with Grenada's colors or waving our flags."
Ayan represented IFMSA-Grenada at the Standing Committee on Research Exchange (SCORE), which oversees the exchange of students between member countries for the purposes of working on research projects. He made several contacts with the Research Exchange Officers of other countries who expressed great interest in helping to establish IFMSA-Grenada's SCORE program and who would like to offer research exchange between their schools and SGU.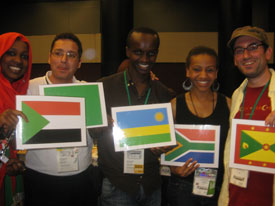 Ayan, along with IFMSA-Grenada President-External Antonio Thomas, also participated in plenary sessions, where they cast votes on motions and resolutions involving constitutional by-laws, elections, future meeting sites, and position statements. Members from the SGU delegation distributed information about the University and Grenada to other attendees, as well as discussed the opportunities for Professional Exchanges in Grenada.
"Its really unique to have that many countries under one roof who all care about global health issues," says Yon Chong, Alumni Coordinator for IFMSA-Grenada. "I'm grateful to St. George's and IFMSA for allowing me to participate in amazing experiences like this."
Ayan adds of his experience, "Despite different cultures and modes of education, we all found common ground in the joys and struggles of a medical student."
IFMSA organizations meet biannually in March and August. IFMSA-Grenada delegates attended their first General Assembly last August in Montreal, where the group was voted in as a full National Member Organization (NMO). Copenhagen, Denmark, will host the next General Assembly in August 2011, with the focus on both possibilities and challenges concerning health in the future.
https://www.sgu.edu/wp-content/uploads/2016/10/news-IFMSA-Indonesia.jpg
232
550
VS
https://www.sgu.edu/wp-content/uploads/2020/02/sgu-logo-grenada.svg
VS
2011-04-05 18:06:06
2017-01-18 01:20:39
IFMSA-Grenada Attends General Assembly in Indonesia