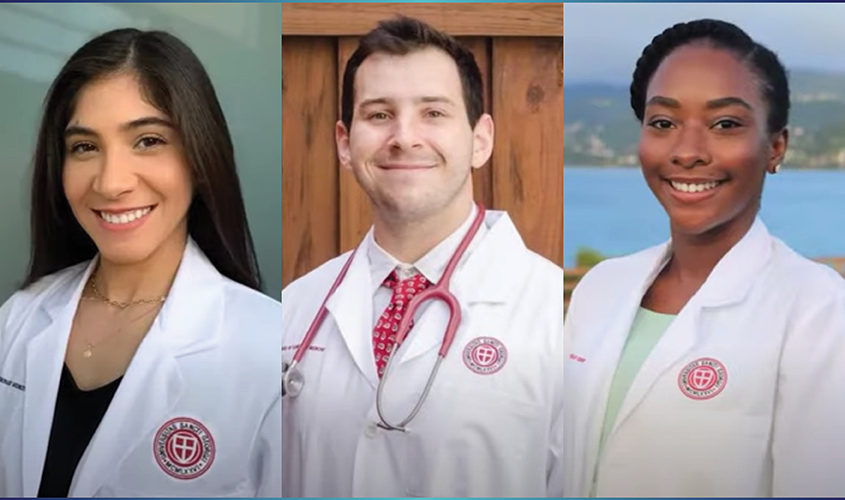 With the safety of its students, their families, and the Grenadian community as its highest priority, St. George's University held its first-ever virtual White Coat Ceremony last week—formally welcoming aspiring veterinarians from its August 2020 and January 2021 incoming classes to the veterinary medical profession.
The future veterinarians are on the path to join over 1,900 other graduates of SGU's School of Veterinary Medicine. The SVM also maintains partnerships with more than 30 universities and clinical facilities in the US, UK, Canada, Ireland, and Australia, where fourth-year students spend a year of clinical training at an affiliated veterinary school.
One alumna—Carolina Medina, DVM '05, a certified veterinary pain practitioner—served as the day's master of ceremonies. In her address, she counseled the veterinarians-in-training that becoming a DVM was going to be harder than they expected, but the harder they worked, the greater they would feel when they achieved it.
Watch August 2020 Ceremony
"Stay focused, seek help when you need it, and always remember why you started on this journey in the first place," said Dr. Medina. "Working with animals is rewarding and fulfilling, and as a veterinarian you will have the ability to make an impact on the lives of animals and people, as well as service your community."
St. George's University President Dr. G. Richard Olds described last year's coronavirus COVID-19 outbreak as a prime example of the interconnectivity of human and animal medicine. According to Dr. Olds, the pandemic will take the combined efforts of both human and veterinary medicine to combat, and it has also impacted the symbolism of the white coat.
"Patients and other individuals have often thought well of those in the health professions," stated Dr. Olds. "However, I believe those in the health profession today have achieved a new status because of the personal risks that those individuals on the frontlines have exposed themselves to while serving those affected by the virus. They have gained a new status—these health professionals have attained 'hero' status more so now than ever before."
Other speakers at the event included the chancellor of St. George's University, Dr. Charles R. Modica, Provost Glen Jacobs, Dr. Neil C. Olson, dean of the School of Veterinary Medicine, and keynote speaker Dr. John Howe, the immediate past president of the American Veterinary Medical Association, who served in the role of president for 2019-2020. Dr. Howe congratulated the future vets on their success so far, recognizing how hard they've worked and knowing the new challenges they will now face.
Watch January 2021 Ceremony
"What will determine your relative success will be your ability to build relationships with your clients," advised Dr. Howe. "Whatever your career path, it's all about relationships. And perhaps most of all it's about listening. As the saying goes… 'nobody cares how much you know, until they know how much you care.'"
Established in 1999, the School of Veterinary Medicine continues to add to its legacy of graduating top-notch veterinarians into the global healthcare system with its Doctor of Veterinary Medicine (DVM) program recently receiving full accreditation from the Royal College of Veterinary Surgeons (RCVS). As a result, St. George's University is now one of the few veterinary schools in the world to be accredited by both the American Veterinary Medical Association Council on Education (AVMA COE) in the United States and Canada, as well as the RCVS in the UK.
– Ray-Donna Peters
https://www.sgu.edu/wp-content/uploads/2021/02/SGU_ThreeUp2-1.jpg
500
845
bpmauser
https://www.sgu.edu/wp-content/uploads/2020/02/sgu-logo-grenada.svg
bpmauser
2021-02-05 19:27:17
2021-02-05 20:00:59
Impact of Veterinarians Underscored in Spring 2021 Virtual White Coat Ceremony