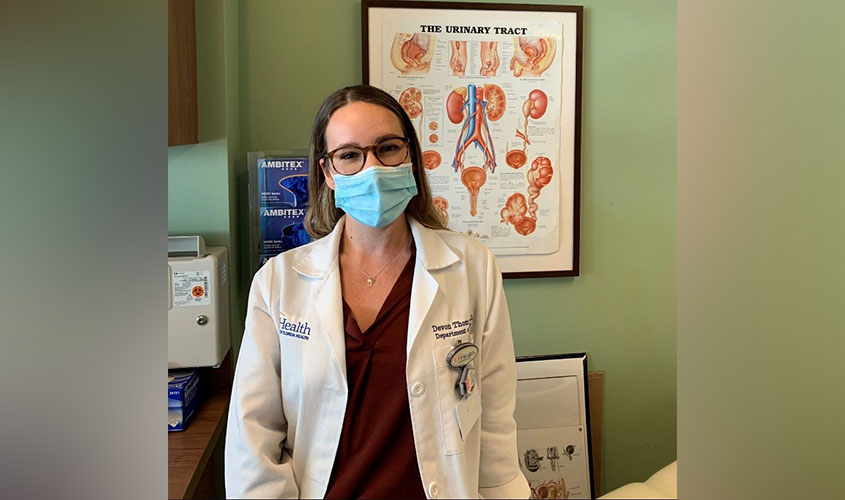 What does it take to be a urology resident?
"You must be extremely hard working and empathetic at the same time," said Devon Thomas, MD '20, a second-year resident at The University of Florida College of Medicine—Jacksonville in the Department of Urology. "We are often taking care of patients in their most vulnerable state, which requires a lot of compassion and maturity."
In urology, one of most competitive medical fields to get into, Dr. Thomas said her training varies day-to-day. "It includes both inpatient and outpatient responsibilities with the majority of my training focusing on surgical skills and surgical training for the genitourinary system," she said.
Dr. Thomas shared what's most exciting about the specialty for her, her plans post-residency, and the essential advice she has for aspiring physicians.
St. George's University: Why did you choose this career path/specialty? Did you always want to become a doctor?
Dr. Thomas: I always wanted to become a doctor. I truly can't remember a time I didn't want to be a doctor and I grew up telling people I was going to be a surgeon. I had some medical conditions as a child, so I actually became very familiar with hospitals and being around doctors, and I was always intrigued by the medical field. I also really like working with my hands and helping people, so I felt surgery was my true calling.
SGU: What excites you most about the work that you do? 
Dr. Thomas: The most exciting part of my job is definitely the surgical aspect. I love getting new cases and trying to analyze the best avenues for treatment and patient care. Each patient is different and requires a slightly different surgical approach, which requires using some creativity when devising a surgery plan.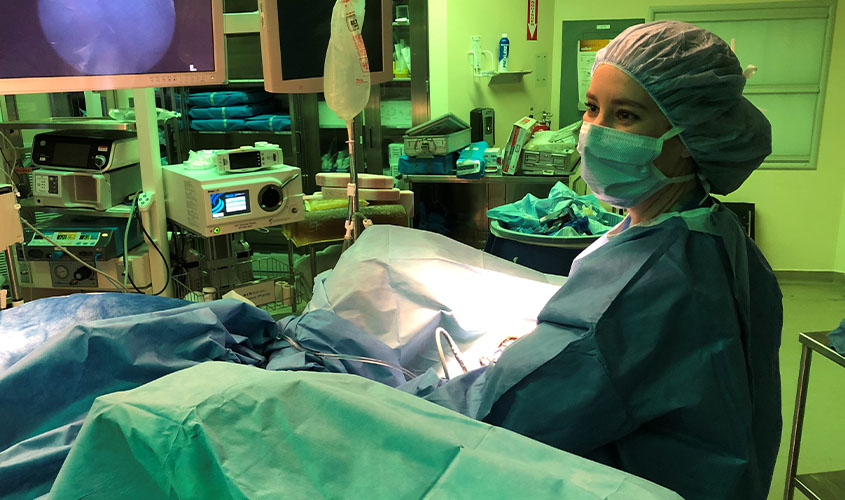 SGU: What was your reaction when you found out where you were headed for residency?
Dr. Thomas: I was ecstatic when I got my residency match. Urology is one of the most competitive specialties in medicine so I was very anxious that I wouldn't match into it. When I got the email that I not only matched into the specialty of my dreams but also was getting to go back to my home state, I truly could not have been happier.
SGU: How well do you feel that SGU prepared you for this next step in your journey?
Dr. Thomas: I think SGU prepared me extremely well for residency. SGU gave me the foundation to be an excellent basic sciences student, which helped me excel on the USMLE exams. In my clinical rotations, I was constantly pushed to be the best clinical student I could be, which in turn made me a hard-working resident. I wouldn't be where I am today without SGU.
SGU: You were recently named "Intern of the Year" by the hospital where you work. Describe how that made you feel.
Dr. Thomas: It was great to see that all of my hard work throughout the year was recognized by my mentors and made me want to continue to strive for even more excellence.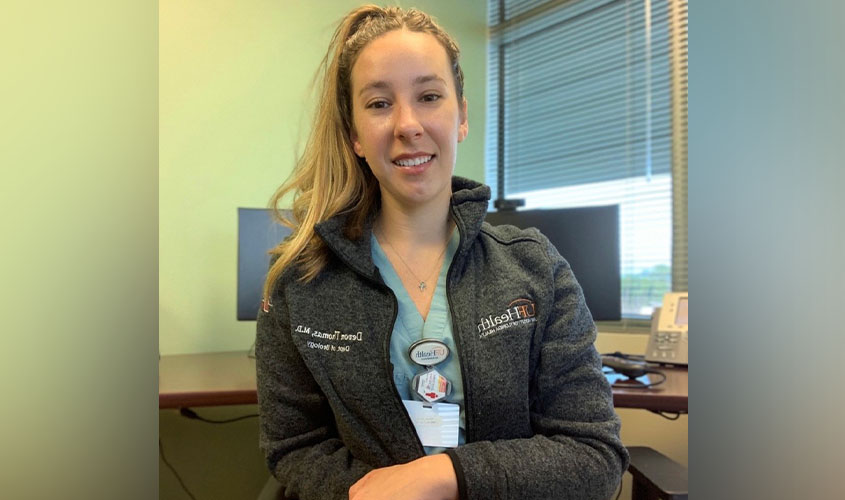 SGU: What insights would you share to future PGY-1 residents about what residency is like?
Dr. Thomas: Future PGY-1s should know that residency is unlike anything they've ever done before. They will have more responsibility than they ever have. At first, it can feel very overwhelming, but in the end it is worth it. In addition, you will always have people to learn from and support you, which makes things easier.
SGU: What advice would you give to someone on a similar journey to becoming a physician?
Dr. Thomas: My advice for future physicians is—don't give up and don't take no for an answer. There were multiple times along my journey that I heard "you won't match into urology," but I refused to believe that and worked even harder when someone doubted me.
SGU: What's next after residency?  
Dr. Thomas: I'm looking at fellowships for when I finish residency. I am interested in becoming a reconstructive urologist and am trying to begin preparing my applications for that.
– Ray-Donna Peters and Laurie Chartorynsky
Related Reading
Residency success 101: How to ace your application, interview, and first day on the job
Family medicine resident wins prestigious AAFP award
Hospitalist serves as "gatekeeper" for patient care at premier medical centers
https://www.sgu.edu/wp-content/uploads/2021/11/Devon-thomas-photo-1-845.jpg
500
845
lchartor
https://www.sgu.edu/wp-content/uploads/2020/02/sgu-logo-grenada.svg
lchartor
2021-11-15 21:26:01
2021-11-15 21:26:17
Intern of the Year's advice for future physicians: "Don't give up and don't take no for an answer"