Five Narratives Illustrate the Power of the White Coat to Fall 2015 Entering Class
To welcome the newest class of students at the Keith B. Taylor Global Scholars Program White Coat Ceremony in August, they were told of five narratives that summarize the history and the future of their newest attire – the white coat, a symbol of the profession they were entering and to which they committing their future.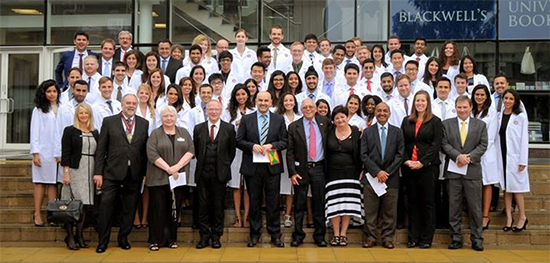 In the words of the evening's keynote speaker, Dr. Arthur R. Derse, Director of the Center for Bioethics and Medical Humanities, and Professor at the Medical College of Wisconsin, the story of the white coat begins, naturally, at the beginning. Physicians' switch from black coats to white coats occurred fairly recently, with the white coat serving as a symbol of scientific medicine. Surveys have since shown that patients prefer caretakers who wear white coats as opposed to scrubs.
Through time, Dr. Derse said as he began the second narrative of the white coat, the rise of scientists dramatically improved medicine, whether it was John Snow, the father of modern epidemiology, Elizabeth Blackwell, the first woman to earn an MD, or global health ambassadors such as Keith B. Taylor, for whom the Global Scholars Program is named, and Partners in Health founder, Paul Farmer.
Works of fiction, the third narrative, have also helped mold medicine, from that of Leo Tolstoy and Albert Camus to popular television shows such as "House" and "Grey's Anatomy." Although they shape the populace's expectations and often aren't realistic, they nevertheless hold truths, proclaimed Dr. Derse.
Patients also tell their own stories, and it is up to physicians to listen with empathy. Doing so can start the patient on their journey back to comfort or a cure through prognosis and treatment. In hearing the entire story, physicians absorb the values embedded in those stories and can also sometimes treat with greater efficiency and compassion.
Finally, Dr. Derse stated that the tale of the white coat continues into the fifth narrative with each present student who wears his or her white coat for the first time. The ceremony marks the first chapter in students' path toward their MD and their professional lives in which they will work hard to develop their knowledge, clinical skills, and character, all for the sake of their future patients.
As part of the Global Scholars Program, these students will spend their first year of basic sciences in the UK, follow it with a year in Grenada, and complete their medical education with two years of clinical training in the United States, United Kingdom, Canada, or Grenada. Since its Charter Class in January of 2007, the program has seen more than 900 students go on to earn their MDs from SGU.
https://www.sgu.edu/wp-content/uploads/2016/10/KBTGSP-Students-Obtain-White-Coats.jpg
263
550
VS
https://www.sgu.edu/wp-content/uploads/2020/02/sgu-logo-grenada.svg
VS
2015-09-15 19:03:04
2017-01-17 23:18:56
KBTGSP Students Obtain White Coats - and Some Perspective - at White Coat Ceremony