The 2016 graduands of St. George's University's Keith B. Taylor Global Scholars Program (KBTGSP) took the next step toward obtaining their medical degrees, receiving  their Higher Education Diploma in Medical Sciences from University of Northumbria (NU) on February 13.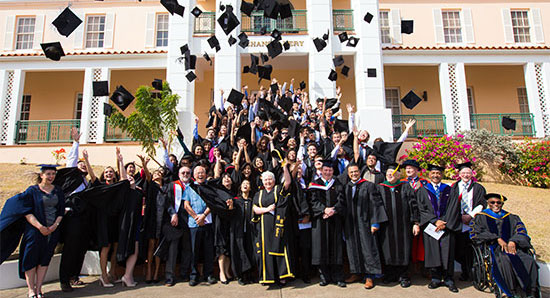 In addressing the students at Bourne Lecture Hall on SGU's True Blue Campus, Professor Kath McCourt, Executive Dean and Pro Vice-Chancellor Elect of NU, admitted to being envious of the graduands and all of their first-time experiences as they begin their careers in medicine.  She stressed this ceremony was one of celebration of their hard work, the talent, and the determination they've shown during their studies.
"I believe your time with Northumbria University would have provided you with a firm foundation to build on, and I am confident it has shaped you as an individual, colored the choices you made, and opened your eyes to the difference you can make," remarked Professor McCourt. "As you join our global community of 186,000 students in more than 167 countries worldwide, I hope it has shaped the career you would pursue and the life that you will live."
Dr. Allen Pensick, Provost, St. George's University called Dr. Keith B. Taylor a visionary, as he paid tribute to the man for whom the program was named. As Vice Chancellor, Dr. Taylor helped to transform the School of Medicine into a university with diversity of schools, programs, and students from all over the world.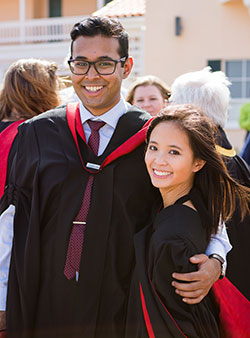 "Unfortunately, Dr. Taylor passed away just two weeks before the charter class matriculated in January 2007, but I knew his vision for the program which bears his name and it must make him very pleased to know that all of you chose the KBT program," recalled Dr. Pensick. "He also believed that, with the changes that were occurring in the world, the program you have undertaken would prepare you well for your careers as a physician."
"Your firsthand experience as medical students in the wider sense of global health is unparalleled," added Dr. Pensick. "The global community is going to be well served by your exposures to different health care systems, different cultures, and different ways in which the art of medicine is practiced. The skills you have learned will enable you to do a lot of good as you face the challenge of medicine in a changing world."
Punctuating the momentous occasion, one by one the students crossed the stage and received their HE Diploma in recognition of successful completion of their first year of studies at the School of Applied Sciences at Northumbria University.
As part of the Keith B. Taylor Global Scholars Program, St. George's University School of Medicine offers an option for medical students to complete the first year of the Basic Medical Sciences program on the campus of Northumbria University in the United Kingdom. Upon successful completion, students then continue their second year of the medical program in Grenada and conclude their medical education with two years of clinical training in one of our affiliated hospitals in the United States, United Kingdom, Canada, or Grenada.
Published on 3/8/16
https://www.sgu.edu/wp-content/uploads/2016/10/KBTGSP-Academic-Congregation-Outside-Chancellory.jpg
298
550
Erin Shaw
https://www.sgu.edu/wp-content/uploads/2020/02/sgu-logo-grenada.svg
Erin Shaw
2016-03-08 20:35:37
2017-01-17 23:03:17
Keith B. Taylor Global Scholar Students Receive Higher Education Diploma in Medical Sciences from Northumbria University