In size, the 10-millimeter copper device created by St. George's University alumnus Ahmad Firas Khalid and two colleagues may not seem like much. In impact, however, it may dramatically improve the quality of life for millions of people worldwide.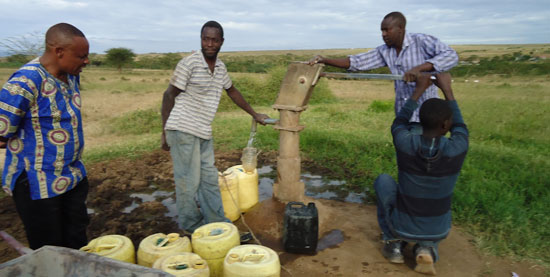 Dr. Khalid's creation will allow rural water sources, such as this one in Kenya, to provide clean water for the masses.
The 2009 graduate and Drs. Padma Venkat and Caroline Kisia were the recipients of a $100,000 CDN Grand Challenges Canada (GCC) Proof-of-Concept Grant for the development of a low-cost water purifying copper device that has been proven to kill deadly water-borne pathogens.
"More than one billion people lack access to improved water supply, which is a basic human right," said Dr. Khalid, who with Drs. Venkat and Kisia are also students in the International Masters for Health Leadership (IMHL) program at McGill University, Canada. "The absence of purified water causes infectious diarrhea resulting in up to 2.2 million deaths per year in children under age 5, and while it is a particularly dire situation in India and Africa, it's a global issue in need of a sustainable solution. This could be the solution we've been looking for to save millions of lives."
The device, which will be field-tested in rural Kenya and India, is placed into a container of water and purifies its contents within 24 hours. According to Dr. Khalid, "it costs less than $10 US to manufacturer; it is safe, effective; easy to use, requires no electricity, and lasts a lifetime."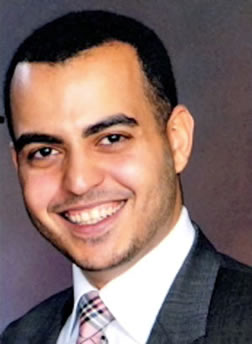 Dr. Khalid, together with Drs. Venkat, director of the Institute for Ayurveda and Integrative Medicine (I-AIM) in Bangalore, India, and Kisia, director of Action Africa, a non-governmental organization in Kenya, has 18 months to implement and prove the sustainability of the project. Once successful, they will then be offered a $1 million CDN 'Transition-to-Scale,' grant. Their hope is to develop a business model that manufactures and supplies copper devices on a global scale.
As the project manager, Dr. Khalid stated, "It is no longer enough for physicians to be involved in research, but what is really important is implementing the medical advances that people are in need of. I am grateful to St. George's University for instilling in me that research is a continuous and critical process."
As the first recipient of St. George's University's Student Humanitarian Award in 2007, Dr. Khalid recalled making a commitment to help underprivileged people throughout the world. "The world-class education I received from SGU opened many doors for me that I never thought was possible. My medical journey took me from Grenada to St. Vincent, to London, UK, and now I'm in Canada," he said, "Because of this, I was able to appreciate medicine and its global impact. SGU has provided a remarkable opportunity for my career and was the stepping stone to where I am today."
Upon graduating in 2009, Dr. Khalid, who is originally from Jordan, went to teach medical practice in Ottawa, Ontario, Canada, and did his clinical rotations in London. Currently he is a medical professor at Ottawa, Ontario Canada and worked with the World Health Organization on maternal-fetal health programmes in Geneva.
https://www.sgu.edu/wp-content/uploads/2016/10/news-from-lab-field2.jpg
277
550
VS
https://www.sgu.edu/wp-content/uploads/2020/02/sgu-logo-grenada.svg
VS
2013-07-02 13:28:09
2017-01-18 00:18:34
From Lab to Field: SGU Alumnus Takes Bold Innovation into the Developing World