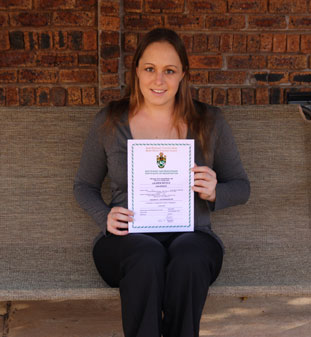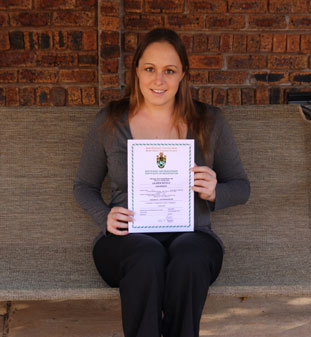 St. George's School of Veterinary Medicine graduate, Dr. Lauren Havenga, DVM '10, is the first to be licensed to practice in South Africa. While the University has a long history of strong ties within the African region through its graduates, international selectives, and collaborations with African health organizations, the medical licensure in South Africa further cements the University's presence in the region
"Dr. Havenga has paved the way for future veterinarians hoping to practice in South Africa," explains Laurie Hinrichs, Director of International Admissions, on the significance of the medical licensure. "South Africa recognizes St. George's as producing capable veterinarians who will contribute to animal welfare and public health for the nation. Dr. Havenga's success reaffirms that SGU's School of Veterinary Medicine upholds international standards and will likely lead to further students pursuing careers in the region."
The South African Veterinary Council (SAVC) is the regulatory body in the field of veterinary medicine in South Africa. No person in the country can practice veterinary medicine unless they are registered with the SAVC or authorized to perform specific procedures. The SAVC holds examinations once a year in September. The exam consists of two sessions of a computer based examination (CBE) that test a person's veterinary knowledge as well as specific disease conditions that relate to South Africa. A clinical and oral examination is also conducted by a panel of examiners appointed by the Council once the CBE exams have been passed.
Registering with the SAVC and acquiring licensure has opened considerable opportunities for Dr. Havenga. She joined a well-established research project that is trying to halt the rapidly declining numbers of endangered vulture species. "Vultures are listed as an endangered species by the South African government and the red book of endangered species." As a non-licensed veterinarian Dr. Havenga was limited to working on specimens in the laboratory or under veterinary supervision. Her status as a veterinarian in South Africa now opens numerous doors to a career in research. She explains, "The licensure has helped because I can now participate in the vulture project more extensively by working independently in the field. I am also able to work as a veterinarian and locum at practices when not involved in research."
Currently, Dr. Havenga is pursuing an honors degree in veterinary science and masters degree in Anatomy from the University of Pretoria in South Africa. She hopes to combine her passion for anatomy and research in her career as a veterinary professional. Dr. Havenga is grateful for St. George's small animal surgeon faculty member Dr. Rudolfo Bruhl-Day for inspiring her to get involved with surgery; Professor Dr. Buxton Nyack for providing practical hands-on at the Large Animal Resource Facility during her basic science years; and the University administration for its support as she applied for licensure through the SAVC.
https://www.sgu.edu/wp-content/uploads/2016/10/news-lauren-havenga.jpg
337
311
VS
https://www.sgu.edu/wp-content/uploads/2020/02/sgu-logo-grenada.svg
VS
2011-10-31 18:18:10
2017-01-18 01:06:56
Lauren Havenga is St. George's University's First DVM Graduate to be Licensed in South Africa