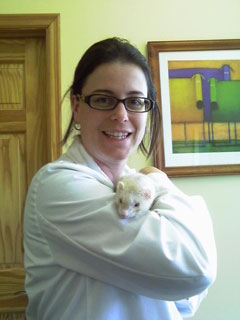 Since graduating from the School of Veterinary Medicine in 2006, Dr. Heather Douglas has been hard at work making a name for herself within the veterinary industry. She established Douglas Animal Hospital after assuming ownership of a local pet hospital in Osseo, Minnesota, and she recently founded DVMtoGO, a staffing firm specializing in placements for veterinarians, certified veterinary technicians, and various other professions within the veterinary industry.
Not long after beginning her newfound roles as CEO and business owner, she started to receive emails from the University promoting the new online MBA in Multi-Sector Health Management program, which immediately piqued her interest. "I own a business, and it's the perfect time to get educated on how multi-sector health applies to veterinary medicine," she says. Due to the success her DVM degree has brought, coupled with a tuition discount offered to alumni to further support their professional development and the practicality of an online program, she re-enrolled at the University to earn an MBA in Multi-Sector Health Management.
Dr. Douglas is among the 90 percent of veterinary graduates who end up in private practice. An MBA in Multi-Sector Health Management is often a logical step for these students as it equips them with the skills needed to manage every aspect of small- to medium-sized organizations in the private or social sectors. "It's making a huge difference in the way I run my businesses," explains Dr. Douglas. "As a veterinarian, I tend to be more emotional, but I have learned to objectively evaluate what's happening in my practice."
The MBA in Multi-Sector Health Management, offered through the University's Centre for Advancing International Management, is a US-style master's program that focuses on managing the dimensions and complexities of community wellness as well as economic enterprise. The convenience and flexibility of the MBA program allowed Dr. Douglas to return to school despite her various roles and obligations in Minnesota.
The 34-credit, 12-month program is taught primarily online with two short supplementary residencies in Grenada. The program begins with a one-week residency in Grenada to build trust and respect among the classmates. Dr. Douglas believes the opportunity to meet her classmates face-to-face was instrumental in the success of the online program. "We interacted directly with instructors and spent a lot of time with our cohort, building strong relationships," she indicates. "I got to know everybody before jumping online, so now, I'm really comfortable."
Courses cover practical aspects of developing community enterprise, especially in areas of health, from marketing and finance to decision-making and project management. The goals and objectives of the curricula are built on standards set by the Association to Advance Collegiate Schools of Business (AACSB), the UK-based Association of MBAs (AMBA), and incorporate the UN Principles for Responsible Management Education (PRME). Additionally, a distinctive holistic approach underlies the program, keeping with St. George's University's focus on internationalism and the concept of One Health, One Medicine.
Though Dr. Douglas isn't expected to complete her MBA until Fall 2011, she has already applied core principles taught in the curriculum to her career. "I promoted a practice manager and do more of a tiered training when I hire new employees," she explains. "I have also been promoting more within my businesses, and I learned to deal with clients by communicating more effectively to get my point across to owners on what needs to be done to best care for their animals."
In earning her MBA, Dr. Douglas hopes her business and clinic will be able to run independently so she can spend her personal time travelling and visiting Grenada a few months a year. Once her business is more established, she hopes to return to working more directly with her patients. Dr. Douglas is a greatly valued alumna through all her continued involvement with the University. Between practicing as a veterinarian, managing a business, and earning her MBA, she still finds time to speak with prospective students at information sessions as an Alumni Admission Mentor Program (AAMP) member.
In addition to an MBA in Multi Sector Health Management, the University also offers an MBA in International Business. This 18-month, 48-credit program speaks in a global voice to business management. Students build on their careers, enhance their managerial skills and knowledge, gain international experience and competency, and put their new learning to use in a global arena. MD and DVM students may also opt for a dual degree in MBA in Multi-Sector Health Management. To date, there are 30 students enrolled in graduate business programs and 93 graduates.
https://www.sgu.edu/wp-content/uploads/2016/10/news-mba-student-Heather.jpg
320
240
VS
https://www.sgu.edu/wp-content/uploads/2020/02/sgu-logo-grenada.svg
VS
2011-04-18 18:47:52
2017-01-18 01:19:04
MBA Transforms a DVM's Vision into a Successful Business