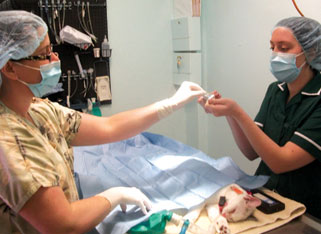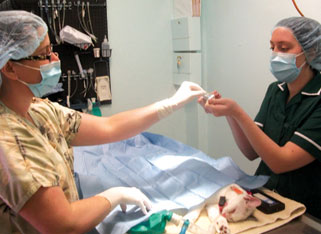 Dr. Heather Douglas first crossed paths with Mr. Austin Kirwan, Assistant Dean for UK Clinical Affairs, for the St. George's University School of Veterinary Medicine, as they completed their Master of Business Administration residency in Grenada in 2011. As the only two veterinarians in the program at the time, their similar goals drew them together.
They have continued their collaboration through the establishment of a unique exchange program in which visits to each other's practice provides perspective on their facilities' effectiveness in treating patients.
First, Dr. Douglas, a 2006 graduate of the St. George's University School of Veterinary Medicine and recipient of an MBA degree from SGU in 2011, visited Mr. Kirwan at his practice, Barn Lodge Veterinary Hospital, which has three locations in the north of England. She returned home with ideas on how to improve her own practice, Douglas Animal Hospital in Osseo, Minnesota.
"I think this exchange has given me a more global view of veterinary medicine, and the ability to integrate more than one point of view into my practice is priceless," said Dr. Douglas.
"It opens up an avenue that technicians would have never thought to have experienced in life," Mr. Kirwan added. "It shifts everything out of the box for them. They go to work in another country such as the States and come back a different, if not better, person."
Dr. Douglas shadowed staff members at Mr. Kirwan's practice and learned ways in which her practice could be more efficient. While her appointments tended to run for a half hour, she noted that Kirwan operated a fluid process from check-in to the appointment's completion that enhanced the clients' experience and left ample time to meet with patients who required longer visits.
"I couldn't believe he had five-minute appointments, but he was able to provide great patient care in five minutes," Douglas said. "Now we're seeing if we can find a way to improve our efficiency with appointment increments of 15 minutes. Our goal is to improve the experience of our patients with focused appointments that will enable us to provide quality care for our clients."
Douglas, who after obtaining her DVM went on to earn an MBA in Multi-Sector Health Management from SGU, was also interested in the business aspect of Kirwan's practice— everything from taking inventory to paying bills. Using the skills she learned in SGU's MBA program as well as those learned through the visit to Kirwan's clinic, Douglas's practice has become more deadline-driven and includes more protocols. Douglas even implemented a pager system, similar to that of some restaurants, that alerts all employees within the practice when a client enters. The streamlined process consequently has improved clients' experiences at the hospital.
"It makes it appear as though we know what's happening before it happens and has cut at least 10 minutes off each appointment," Douglas said.
This winter, one of Kirwan's veterinary nurses, Adele Duckworth, RVN, traveled to Osseo and analyzed Douglas's practice over a two-week period.
"Since completing the exchange program, my personal development has had a spring-clean," Ms. Duckworth said. "My knowledge and understanding of leadership and problem-solving skills in the workplace have been confirmed and built upon. The exchange has also made me realize that I have a particular interest in the business development of veterinary practice."
Kirwan and Douglas plan to do an exchange every six months and have discussed arranging similar exchanges with other clinics. The initial exchange has been so rewarding that they recommend that similar exchanges be encouraged for other SGUMBA students.
"It doesn't matter if you're in the same country or in another country," Douglas said. "I think it really expands your horizons and allows you to be better at the business of being a doctor."
https://www.sgu.edu/wp-content/uploads/2016/10/news-mba-vet-exchange-program.jpg
234
321
jrichardsink
https://www.sgu.edu/wp-content/uploads/2020/02/sgu-logo-grenada.svg
jrichardsink
2012-04-23 19:08:14
2017-01-18 00:58:00
MBA and Vet Exchange Program Makes A Difference for Vets an Ocean Apart