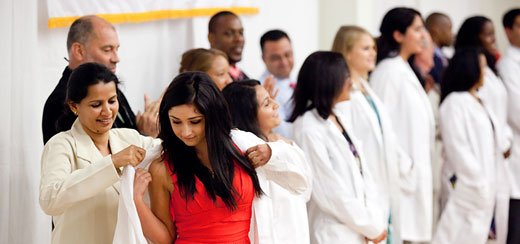 On Monday August 16, 2010 over 400 students took the oath of Professional Commitment to mark their entry into the medical program at St. George's University School of Medicine. This year's bi-annual White Coat Ceremony was held at St. George's University Taylor Hall, where an excited and emotional crowd—including family, faculty and special invited guests—filled the hall to maximum capacity to witness the ceremony.
During opening remarks, St. George's University Chancellor Charles Modica reminded students that their journey has just begun, and is supported by dedicated and accomplished faculty members. Speaking to the enthusiastic crowd, Chancellor Modica said, "You're here because we believe you can do it— and you believe you can do it."
The Chancellor reassured students that St. George's University is not an institution where you have to compete, but one in which students learn and succeed together. Chancellor Modica pointed out that at St. George's, "Everybody has the potential to succeed together— no one has to be left behind." He further stated that the fall 2010 class has the luxury of following a legacy of success, from the 1977 charter class to the successful graduation of over ten thousand doctors. "With this history of success, the outcome is inevitable as long as there is application."
Chancellor Modica explained one of the best things at St. George's University is that "there are a lot of important and individual stories, you get to meet important people, and each one of you has the opportunity to achieve your goals when you arrive in Grenada."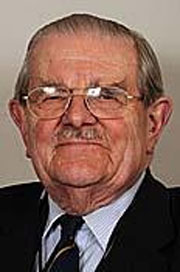 Lord Walton of Detchant, the keynote speaker for the ceremony, sought to pass on lessons to the students, saying that classroom, laboratory and clinical experience "is crucial to the practice of medicine in the 21st century, all of which are part of a learning process which you are all beginning today."
John Walton (Lord Walton of Detchant) Kt TD MA MD DSc FRCP FMedSci, qualified in 1945 with first class honors from the Newcastle Medical School of the University of Durham. He was a former consultant Neurologist to the Newcastle upon Tyne hospitals, Professor of Neurology in the University and Dean of Medicine from 1971-81.He became a Knight Bachelor in 1979 and was awarded a life Peerage as Lord Walton of Detchant in 1989.
Lord Walton of Detchant held the positions of President of the British Medical Association from 1980-82, of the Royal Society of Medicine from 1984-86, of the General Medical Council from 1982-89, and of the World Federation of Neurology from 1989-97. Adding to the list of accomplishments, Lord Walton has also chaired the House of Lords Select Committee on Medical Ethics and was a member of its Select Committee on Science and technology for ten years. In 2006 he was presented with the Hewitt Award by the RSM Foundation Inc.
Relying on this expansive experience and qualification in the field of medicine and research, Lord Walton pointed out that in order to provide proper diagnosis and treatment "it is important to recognize that you need core knowledge- knowledge of human structure and function, of anatomy, physiology, bio-chemistry and genetics because it is very important for many, many reasons."
In addition to knowledge which is fundamental, Lord Walton highlighted the need for core medical skills, citing the importance of taking a complete medical history and carrying out comprehensive physical examinations. "History and physical examinations," said Lord Walton, "are at the core of patient care." Lord Walton also addressed issues such as the importance of doctor-patient communication and establishing a trusted relationship with patients. He further stressed the importance of research, saying, "Today's research brings tomorrow's medicine.
The esteemed doctor shared his experiences with the incoming medical class, reminding them that the practice of medicine deals with living, thinking beings and this should never be forgotten, and always taken into consideration, when treating patients.
Following the keynote address the students were robed in their white coats, took the oath of professional commitment, and were officially welcomed as "Medical Students" to the St. George's University School of Medicine.

https://www.sgu.edu/wp-content/uploads/2016/10/news-white-coat-2010.jpg
244
520
VS
https://www.sgu.edu/wp-content/uploads/2020/02/sgu-logo-grenada.svg
VS
2010-08-24 14:47:02
2017-01-18 01:31:16
Medical Students Officially Welcomed at Fall 2010 White Coat Ceremony