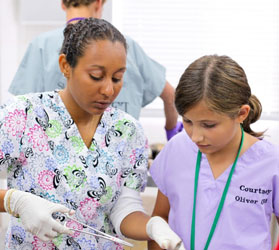 Two students attending Vetsim and Medsim Workshop Conferences in Nottingham have won a place in St George's University Summer Academy in Summer 2011. Nick Allcroft for Medsim and Jemma Dunkerley for Vetsim won the top prize which includes flights, accommodation, meals and attendance at the ten day camp next summer.
St. George's University (SGU) was invited to attend the Medsim and Vetsim residential conference by Workshop Conferences where over 5,000 16-18 year old students studying science A Levels and interested in pursuing a career as a MD or a Veterinary Surgeon attend the workshops.
On winning the top prize, Jemma Dunkerley, an aspiring veterinarian, is thrilled at the prospect of attending the SGU Summer Academy in Grenada, saying, "Wow! I am simply stunned to have won. I'm very excited and looking forward to attending the academy next summer."
Highlights of the Workshop Conference Medsim program included a lecture by Dr. Geoffrey Bosson from the SGU Keith B. Taylor Global Scholars Program in Newcastle and entitled "Zombies, Werewolves and Vampires". Through a riveting discussion, Dr. Bosson demonstrated why the studies of subjects, such as biochemistry, in the early stages of a medical degree are essential. This fundamental knowledge, even which gained at A-level, is used to explore the genetic defects and underlying medical conditions that are the basis for these fairy stories and legends. An associated workshop provided an opportunity to translate a sequence of mRNA and determine the impact that a single base change will have on health.
Dr. Austin Kirwan, a veterinary surgeon and medical ethicist who is Associate Dean for Clinical Affairs for SGU, UK and Ireland, presented an interactive lecture on veterinary ethics for participants of the Vetsim program. Dr. Kirwan led a vibrant discussion on the role a veterinarian plays in determining the priorities of practice – from ensuring animal welfare while answering the financial responsibilities of a business to ensuring dignity for humans and their animal companions. A great debate ensued and is testament to the values and care with which these future vets will serve society.
Rounding out the program were demonstrations and practical sessions run by SGU first year medical students currently studying on the KBT Global Scholars programme at Northumbria University, Ryan Ismail and Dong Kim. Also assisting in the practical sessions were Daren Regis and Emma Lippitt, now a fourth-year medical student and a previous Summer Academy winner.
About The Med/Vet Summer Academy
The St. George's University Med/Vet Summer Academy offers an opportunity of a lifetime for high school and undergraduate college students interested in the fields of medicine or veterinary medicine to get a hands-on, real-world look at the life of a medical/veterinary student and practitioner. Each program offers a ten-day program that combines didactic lectures, small-group problem solving sessions, practical lab work in state-of-the art facilities, as well as hands-on training through simulated and real-life situations. The students' experience is further enhanced through several adventurous and educational off-campus excursions including snorkeling, hiking and island touring. Participants are eligible to receive college credit through the School of Arts and Sciences from participation in lectures and clinical practical's. For more information, please visit the SGU Med/Vet website.

https://www.sgu.edu/wp-content/uploads/2016/10/news-medsim-vetsim-workshop-students.jpg
250
279
VS
https://www.sgu.edu/wp-content/uploads/2020/02/sgu-logo-grenada.svg
VS
2010-08-03 18:04:17
2017-01-18 01:32:38
Medsim/Vetsim Workshop Students Win Trip to SGU Med/Vet Summer Academy