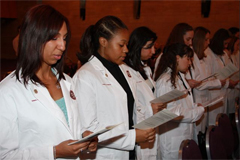 St. George' s University School of Medicine (SGUSOM) along with Northumbria University's School of Applied Sciences (NU) officially welcomed a new class of medical students into the Keith B. Taylor Global Scholars Program (KBTGSP).  On January 17, 2008 the incoming class, which is nearly double the size of the inaugural Jan '07 class of 54 students, participated in the symbolic White Coat Ceremony held at Northumbria University.
The SGU faculty, staff, students and their families were honored to have Mr. Rodney Croft, Dean of Clinical Studies, UK deliver the Keynote Address. Dr. Brian Curry, Associate Dean, Keith B. Taylor Global Scholars Program, led the Processional while Dr. Peter Beaumont, an SGUSOM alumnus, served as the Master of Ceremonies.  They were joined by Calum Macpherson, SGU's Vice Provost for International Program Development and NU's  Vice Chancellor  Kel Fidler .
Dean Croft has had a distinguished career in both General and Vascular surgery in London.  As the UK's Principal Expert on cardiovascular implants since 1993, he has been involved with establishing major Standards for cardiovascular implants and has been published in many scientific journals.
Dean Croft's association with St. George's University began in 1980 when he started teaching SGUSOM students at the North Middlesex University Hospital.  Beginning in 1986, he served as the Director of Medical Education for 15 years.  He also held the posts of Professor of Surgery and Chairman of the UK Surgical Faculty before his 2003 appointment as Dean of Clinical Studies, UK.
As he addressed the KBTGSP incoming class, now representing 14 countries throughout the world, Dean Croft emphasized the critical link between art and medicine.  He urged each student to take stock in the importance of both the scientific knowledge of medicine and the art of nurturing the patient-doctor relationship.  "Knowledge of the science of medicine is crucial but dealing compassionately and empathetically with patients and their relatives is truly the art of medicine," said Dean Croft.  "Teaching the Art as well as the Science is rightfully a great priority for St. George's", he continued.
Interspersed with humorous retrospectives of his personal journey as a medical student, Mr. Croft explained that the opportunity which lay ahead of this group of young men and women is in fact, a great privilege.  As they begin to experience the academic and enriched cultural life of the KBTGSP, they must not forget that with privilege comes obligation, to their professors, families, fellow students and above all, themselves.
Many of the KBTGSP students will return to their homes in developing countries, thereby fulfilling a dream shared by the late Vice-Chancellor Emeritus Keith B. Taylor himself.  In his closing remarks, Dean Croft applauded these endeavors, which he believes have far-reaching beneficial effects on health care in the world.  "I have no hesitation whatsoever in saying you can make an enormous difference not only to the individual patients you treat, but in turn to their families and communities."
Mr. Croft's knowledge of UK undergraduate medical education is extensive, having served 13 years as Clinical Sub-Dean at The Royal Free Hospital Medical School, now the Royal Free University College Medical School.  Dean Croft was a member of the Governing School Council for nine years, the lead controlling Committee for the Medical School.  In 1993, he was awarded the School Medal of the Royal Free, the highest award given, and one which is highly regarded by London University.   He was appointed Honorary Senior Lecturer in Surgery at London University in 1994.
Educated at Selwyn College in Cambridge and Middlesex Hospital Medical School, Mr. Croft obtained a Fellowship of the Royal College of Surgeons of England in 1972.  Two years later, he received a Master of Surgery degree at Cambridge University and became a freeman of the City of London and a fellow of the American College of Surgeons.    From 1972-1974 he was commissioned s a Captain in the Royal Army Medical Corps TAVR attached to C Squadron 21 SAS and thereafter as Surgeon Lieutenant Commander Royal Naval Reserve (1974 – 1983). Mr. Rodney Croft lives on the outskirts of London, is married with three grown children.  He enjoys travel and rowing, and is a keen clarinetist and saxophonist.
https://www.sgu.edu/wp-content/uploads/2020/02/sgu-logo-grenada.svg
0
0
Erin Shaw
https://www.sgu.edu/wp-content/uploads/2020/02/sgu-logo-grenada.svg
Erin Shaw
2008-01-31 02:56:17
2017-01-18 02:36:34
New Class of KBTGSP Medical Students Take Oath at White Coat Ceremony