St. George's University School of Medicine officially welcomed a new class of medical students on August 21, 2006, at the White Coat Ceremony. The proud and eager students received warm welcomes and words of wisdom from many at SGU as well as this year's keynote speaker, Dr. David Muller, Dean of Medical Education at Mount Sinai Medical Center in New York.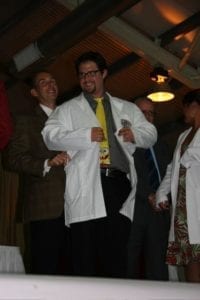 361 students from 29 different countries around the world gathered at Grenada's Convention Center with white coats in hand. During the ceremony the students were clothed in their coats by medical professionals and they took a professional oath, promising to act with integrity and in an ethical manner during their training and careers in medicine. The White Coat Ceremony marks their official entry into medicine.
Chancellor Charles R. Modica welcomed the students to St. George's and wished them well as they begin a "great and noble career." He pointed out that the path they have chosen "carries with it a profound obligation of service to others."
The SGU alumni Master of Ceremonies was Francis McGill, MD, SGU '81, Associate Dean of Clinical Studies, US, at SGU.
During his keynote address, Dr. Muller urged the students to remember what it was that attracted them to the profession of medicine. He cautioned that there would be many distractions along the way, that one of the occupational hazards of being a physician, ironically, is becoming inured to the needs of the patient. A physician must always remember the patient's humanity and respond to the totality of his or her needs, as well as those of the family. Patient care must be kept foremost in each physician's mind and practice. (For the full version of Dr. Muller's keynote address, please click here)
Dr. Muller, MD, received a BA from Johns Hopkins University and an MD from New York University School of Medicine. He completed his Internship and Residency in Internal Medicine at the Mount Sinai Medical Center, where he spent an additional as Chief Resident. Upon completing his training, Dr. Muller co-founded and directed the Mount Sinai Visiting Doctors Program, which is now the largest academic physician home visiting program in the country. In May 2005 he was appointed Dean for Medical Education.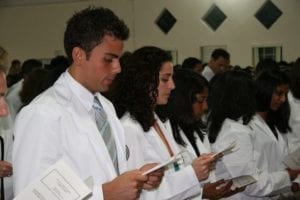 Dr. Muller's recent honors include the Department of Medicine's Ruth Abramson Humanism in Medicine Award in 2005, induction into the Gold Humanism Honor Society in 2004, and the Casita Maria Community Builder Award in 2002. Dr. Muller is Associate Professor of Medicine and Medical Education and is a Fellow of the New York Academy of Medicine.
Following the Keynote Address, the medical students took their oath of professional commitment, promising to be responsible, professional, ethical, and honorable during their careers as physicians. Afterwards, a reception was held for the students and their families.
Published on 08/25/2006
https://www.sgu.edu/wp-content/uploads/2016/10/Students-Reading-at-White-Coat-Ceremony2006.jpg
426
639
smashm3233
https://www.sgu.edu/wp-content/uploads/2020/02/sgu-logo-grenada.svg
smashm3233
2006-08-25 20:18:48
2017-01-18 03:06:28
New Class of Medical Students Take Oath at White Coat Ceremony