St. George's University Students Can Now Complete Rotations in 11 US States and Washington, DC
To set the course for their medical careers, St. George's University medical students can complete their clinical rotations at more than 70 affiliated hospitals and clinical centers, including in Nevada, the most recent state with which SGU has formed a pipeline.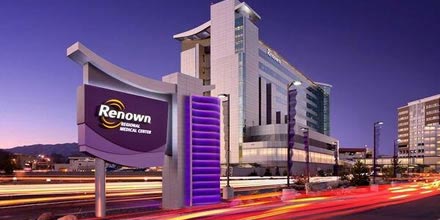 With an agreement signed this year, SGU medical students can partake in fourth-year electives at Renown Health in Reno, NV, and can conduct third-year clerkships starting in Summer 2016. In addition, students can continue to obtain in-network clinical training in 10 other states – California, Connecticut, Florida, Illinois, Maryland, Michigan, New Jersey, New York, and Ohio, as well as Washington, DC – as well as in Canada, the United Kingdom, and Grenada.
"It has always been our priority to provide our students not only with high-quality clinical training venues but with a variety of opportunities as well," said Dr. Charles Modica, St. George's University Chancellor. "We are thrilled to have created a relationship with Renown Health, which will allow St. George's University students to learn from outstanding physicians and with state-of-the-art technology as they prepare for their own medical careers."
Renown Health is northern Nevada's only locally owned, not-for-profit health system, made up of a wide network of hospitals, urgent care centers, and lab and imaging services throughout the region, including Renown Regional Medical Center and Renown Children's Hospital.
"We're proud of the network of hospitals and clinical centers that has been created, and proud of those who gain valuable experience at these institutions each year," said Daniel D. Ricciardi, MD SGU '81, FACR, St. George's University Dean of Clinical Studies for the United States. "Our students are in great hands, and we're confident that Renown Health and all of our academic affiliates will find these students to be highly skilled and highly knowledgeable."
https://www.sgu.edu/wp-content/uploads/2016/10/New-Clinical-Affiliations-in-Nevada.jpg
220
440
VS
https://www.sgu.edu/wp-content/uploads/2020/02/sgu-logo-grenada.svg
VS
2015-10-30 20:10:09
2017-01-17 23:14:24
A New Clinical Affiliation in Nevada