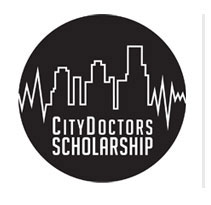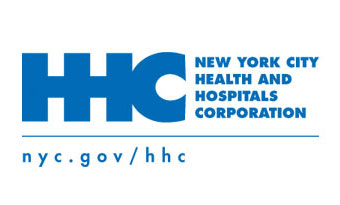 More than $11 Million in "CityDoctors" Scholarships Will Be Awarded to New Yorkers Who Commit to Practice Primary Care in a Public Hospital 
Deputy Mayor for Health and Human Services Linda I. Gibbs, Health and Hospitals Corporation President Alan D. Aviles and St. George's University Chancellor Dr. Charles Modica today announced the CityDoctors medical scholarship program that will, over the next five years, provide tuition based scholarships worth more than $11 million to New York City residents who aspire to become doctors. Those who commit to give back to the community by practicing primary care medicine at an HHC hospital will be eligible for a scholarship. The first class of CityDoctors scholarships will be awarded this summer and fall to 25 New Yorkers who have demonstrated academic excellence and financial need. President Aviles, Chancellor Modica and St. George's University graduates celebrated the announcement at Metropolitan Hospital in Manhattan.
"New York City's public hospitals and clinics serve over one million New Yorkers each year and are critical providers of culturally competent, patient-centered primary care in this city," said Deputy Mayor Gibbs. "This program will help draw some of the best and brightest to our system, addressing a pending shortfall of talent and ensuring that the patients who rely on us will have dedicated providers for decades to come."
"Primary care providers are the main source of healthcare for many New Yorkers. Yet not enough medical school graduates are choosing a career path in family medicine, pediatrics or internal medicine, and are often lured into higher paying specialties. The CityDoctors scholarships will serve as a great incentive to ensure the public hospitals can secure a pool of outstanding primary care physicians who not only share our mission to increase access to preventive care and keep New Yorkers healthy, but also have real ties to the communities we serve," said HHC President Alan D. Aviles.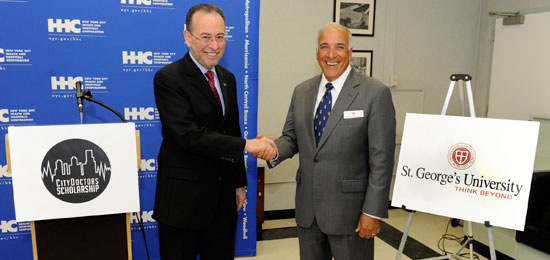 "Graduates of St. George's University, with their international outlook and training, are uniquely suited to serve the city's diverse population and these scholarships ensure that the best and truly committed physicians are tapped to help alleviate the shortage of primary care physicians in New York," said Dr. Charles Modica, St. George's University Chancellor. "These students will leave our University with the skills needed to return home and serve their fellow New Yorkers in the largest municipal healthcare system in the United States."
To kick off the first year of the CityDoctors program, five New Yorkers will receive full-tuition scholarships valued at approximately $216,000 each, and another 20 recipients will receive half-tuition scholarships for a medical degree from St. George's University Medical School, Grenada, and then jumpstart their careers at HHC. St. George's University will also award the value of two full-tuition scholarships every year for the next four years for each HHC hospital that provides at least 24 clerkships – an additional $8 million in scholarships based on the five HHC hospitals that currently meet that standard. In return, each student will commit to give back to the City of New York one year of service per year of free tuition by working as a primary care attending physician at an HHC hospital. Students will also have to meet at least one of the following criteria: graduated from a NYC high school, have five years of residency in NYC, have a parent employed by HHC or the City of NY, or be employed by HHC or the City of NY for at least five years.
"SGU's diverse student body and faculty are uniquely suited to prepare students for clinical training in New York City – and all of this together is perfect training for a primary care doc in NYC. This scholarship is right on target," said Dr. Ira Jay Bleiweiss, Chief of Anatomical & Surgical Pathology at Mt. Sinai Medical Center and Professor of Pathology at Mt. Sinai Medical School. "Personally speaking, while I am a specialist involved in breast cancer, I do, however, recognize the important role of breast screening and breast imaging as a critical part of primary care. Screening both finds breast cancer when still treatable and curable, and plays a role in preventing it. I see this in my work literally everyday."
"This partnership creates amazing opportunities and benefits for SGU medical students and New Yorkers," said Dr. Tita Castor, SGU Alumni and Medical Director of Palliative Care at Elmhurst Hospital. "I have dedicated my career to geriatric primary care and know first hand how important it is for patients to have a primary care physician. I only wish I had this amazing scholarship opportunity when I was a medical student."
According to the Association of American Medical Colleges (AAMC), the U.S. could face a shortage of 90,000 physicians by 2020 and the overall shortage could worsen as the physician workforce ages and retires just as more Americans will need care. The demand for primary-care physicians – general practitioners, internists, family physicians and pediatricians – will be even greater as a result of the growth of Americans over 65 years old, and under the new federal healthcare reform law which aims to expand health insurance to an additional 32 million Americans and ties reimbursements to improved health outcomes and better coordination of care for each patient.
The AAMC says part of the reason for this shortage is that primary care clinicians earn less than half of what the top two earning specialties make. Medical students often choose to enter the higher-paying specialties, rather than primary care, when faced with their medical school loans. Seventy-eight percent of U.S. medical students have a student loan debt of $100,000 or greater. In 2010, medical students graduated from public institutions with an average debt of $148,222 and $172,422 from private institutions.
The CityDoctors scholarships are part of a renewed five year agreement effective January 2012 between SGU and HHC to support a medical clerkship program. As HHC's exclusive international medical school affiliation partner, SGU future payments to HHC for the training of third and fourth year medical students is expected to exceed the $6,000,000 paid in 2011.
To apply for the CityDoctors scholarships, applicants must submit an essay explaining why they should be awarded this scholarship and how they will contribute to the health care of New York City using their attending position in primary care at an HHC hospital. Applicants who wish to be considered for Fall semester scholarships should submit their application before June 1, 2012.
For more information and to complete a scholarship application, visit the CityDoctors NYC Scholarship website, www.citydoctors.com.
About HHC
The New York City Health and Hospitals Corporation is a $6.7 billion integrated healthcare delivery system with its own 420,000-member health plan, MetroPlus, and is the largest municipal healthcare organization in the country. The Corporation serves 1.3 million New Yorkers every year and more than 475,000 are uninsured. It provides medical, mental health and substance abuse services through its 11 acute care hospitals, four skilled nursing facilities, six large diagnostic and treatment centers and more than 70 community based clinics. Health and Home Care also provides in-home services for New Yorkers. Health and Hospital Corporation was the 2008 recipient of the National Quality Forum and The Joint Commission's John M. Eisenberg Award for Innovation in Patient Safety and Quality. For more information, visit www.nyc.gov/hhc.
https://www.sgu.edu/wp-content/uploads/2016/10/news-city-doctors2.jpg
260
550
jrichardsink
https://www.sgu.edu/wp-content/uploads/2020/02/sgu-logo-grenada.svg
jrichardsink
2012-04-04 19:12:25
2017-01-18 00:59:59
New York City Deputy Mayor Linda Gibbs Announces Partnership Between New York City Health and Hospitals Corporation and St. George's University to Award Medical School Scholarships