Dr. Ezekiel J. Emanuel, an internationally renowned bioethicist and breast oncologist was the Keynote White Coat Speaker who addressed the incoming class with inspiration and pragmatic suggestions for a life in the service of medicine. The School of Medicine welcomed a new class of medical students on January 16th at the White Coat Ceremony. The new students, 355 from 30 different countries (185 men and 170 women) gathered on at the Trade Center in Grand Anse dressed in white coats, marking their official entry into the medical profession.
Chancellor Charles R. Modica greeted the new students and welcomed them to SGU and to medicine. He stressed that their experience in medical school will be as good as they want it to be – or as bad as they allow it to be. He encouraged them to make the right choices. Dr. Allen Pensick, Provost of SGU, echoed the Chancellor's sentiments and welcomed the new students on this joyous occasion.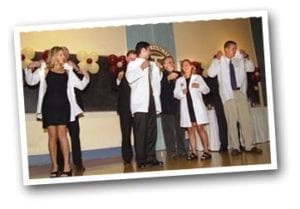 Dr. Emanuel told the students, parents, faculty and administration in the audience that no matter how well-intentioned, hardworking, or knowledgeable doctors are, they will, inevitably make mistakes. It is important to integrate these mistakes, know what they mean, and learn from them. How a doctor assimilates a mistake will determine, to a large extent, the level of commitment to the medical profession. He gave examples from his own medical career to illustrate how rewarding the practice of medicine can be.
Dr. Emanuel has had a very distinguished career in medicine. After earning his undergraduate degree from Amherst College, he received an MSc from Oxford University in Biochemistry. He received an MD from Harvard Medical School and a PhD in political philosophy from Harvard University. He was a fellow in the Program in Ethics and the Professions at the Kennedy School of Government at Harvard.
Dr. Emanuel did his internship and residency in internal medicine at Boston's Beth Israel Hospital and his oncology fellowship at the Dana-Farber Cancer Institute. He then joined the faculty at the Dana-Farber Cancer Institute and was an associate professor at Harvard Medical School.
He has published widely on the ethics of clinical research, advanced care directives, end of life care issues, euthanasia, health care reform, the ethics of managed care, and the physician-patient relationship in The New England Journal of Medicine, The Lancet, JAMA, and many other medical journals. He has published books, has received numerous rewards, and serves on various commissions and organizations. Dr. Emanuel has been a visiting professor at the University of Pittsburgh School of Medicine and the Brin Professor at Johns Hopkins Medical School.
Published on 02/08/2006
https://www.sgu.edu/wp-content/uploads/2016/10/Four-Students-Receiving-White-Coats-2006.jpg
252
361
smashm3233
https://www.sgu.edu/wp-content/uploads/2020/02/sgu-logo-grenada.svg
smashm3233
2006-02-08 19:32:14
2017-01-18 03:13:27
Noted Bioethicist Welcomes the Class of 2010 at the White Coat Ceremony